Our healthcare project in Ghana gives volunteers a chance to work with high-need patients in a variety of hospital departments, from general practice to maternal care. Keep reading to see exactly what it's like to be a healthcare volunteer in Ghana, according to former volunteers.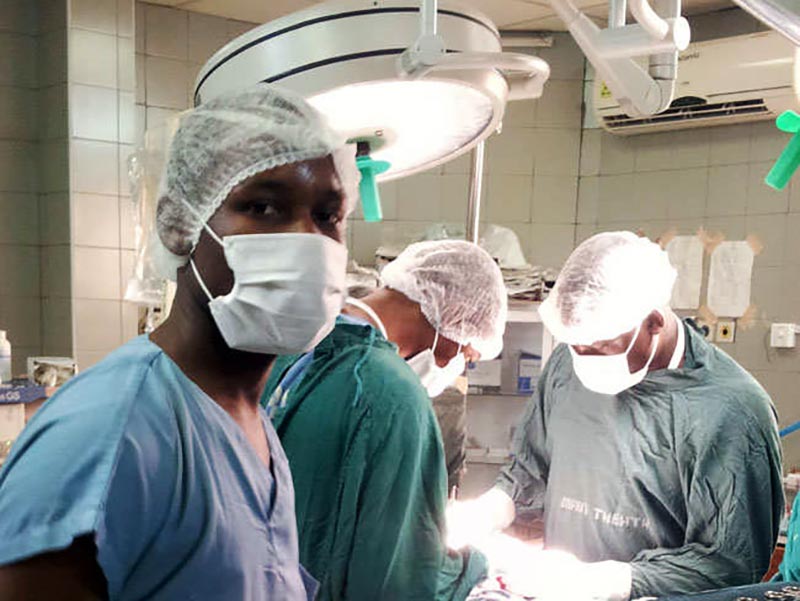 What kind of work will you do as a healthcare volunteer in Ghana?
When you volunteer in healthcare, you'll get hands-on experience working in a busy hospital in Koforidua, Ghana. With the guidance of trained doctors and nurses, you'll rotate between different wards based on your experience and interests.
For example, you could spend one week assessing pediatric patients, then find yourself working with recovering stroke patients in the physical therapy ward the next.
Along the way, you will perform a variety of tasks, including drawing blood, setting up IV lines, diagnosing basic conditions, and assisting with outpatient rehabilitation.
My project was really better than I expected. I was able to get a lot of hands on experience in several of the diagnostic laboratories in the hospital. Important for me, I wanted to get some experience with staining and scoring for tuberculosis and malaria infections and I had ample opportunity to do both. I took a particular liking to the Bacteriology section so I was able to extend my stay in that section for almost two months. - Brian Beard, former volunteer.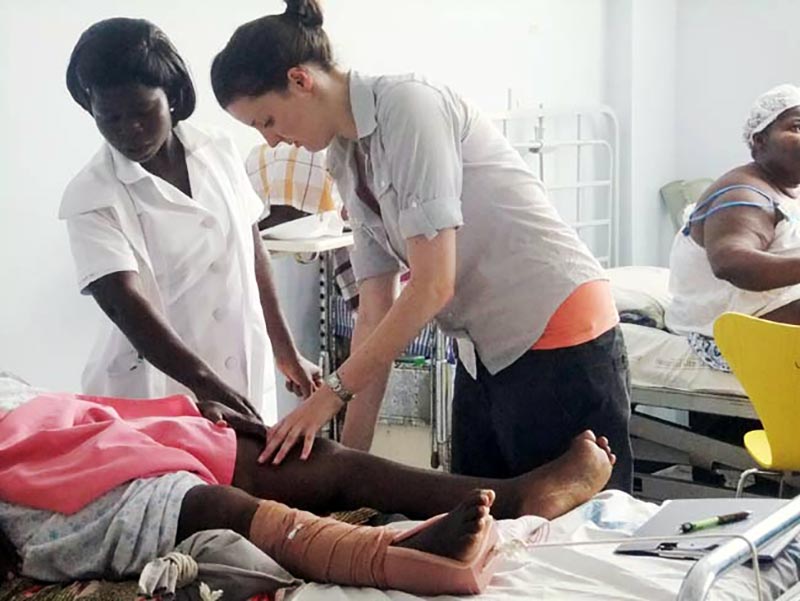 What are the benefits of volunteering in healthcare?
Real experience. For those looking to gain professional experience in the medical field and increase their knowledge of healthcare issues, volunteering abroad is one of the best ways to get real-world insight.
As a medical volunteer, you won't just be standing around. You'll be placed in an extremely busy hospital where you'll actually shadow doctors and nurses and assist patients. Put that on your resume or medical school application!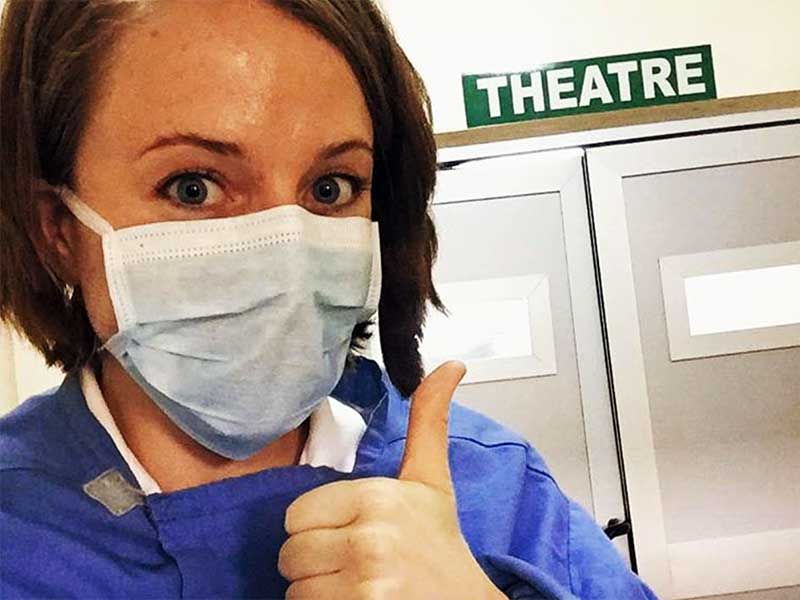 New perspective. As a healthcare volunteer in Ghana, you'll also learn about diseases not commonly found in the West such as malaria, typhoid, and tuberculosis.
Not only that, but volunteering in a hospital in Ghana is not the same as working in medicine in Canada, the United States or the United Kingdom. Local hospitals often lack many resources. Routine tools that we take for granted, such as cardiac monitors and ultrasound machines, aren't always available.
This means doctors (and volunteers) often encounter situations that challenge their skills and force them to get creative.
You'll return home with an appreciation of how much more accessible healthcare is in your own country and the challenges developing countries face.
If working at St Joseph's has taught me one thing, then it is how to adapt. Challenges have included testing my imagination skills with limited equipment (disposable rubber gloves serve well as kicking/punching bags for kids with broken arms or legs), rehabilitating patients who have presented up to two years post-stroke (it's not uncommon for patients to seek alternative therapies such as witchcraft and herbal medicine first) and trying to be a makeshift occupational therapist, speech therapist and orthotist (these therapies are either rare or non-existent in Ghana and so it would be GREAT to have people help out in these areas too) all at once.

While being caught outside my comfort zone at times, I have been able to pester my work colleagues at home with incessant questions thanks to the luxury of internet access in the dorm! - Kate Horan, former volunteer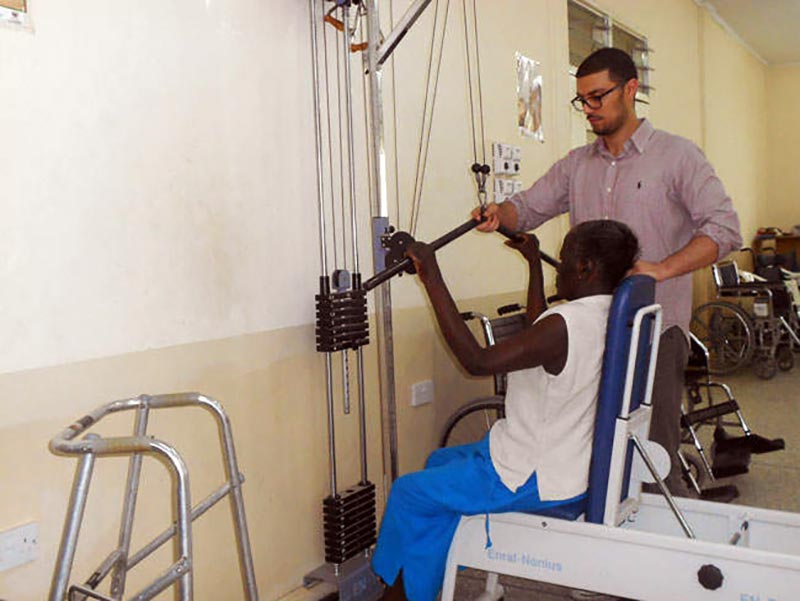 What are the requirements to volunteer in the healthcare project in Ghana?
You don't need professional medical experience to volunteer in our healthcare project, just an interest in the field. Our project is a learning experience, suited for people with various levels of experience.
However, those who are qualified can apply for a temporary certificate to practice in Ghana. 
My experience as a nurse here was very eye opening and has really helped shape how I will practice as a nurse in the future. This experience has also given me a greater appreciation for the healthcare system that Canada has in place. - Krystal Edwards, former volunteer
Where in Ghana is the program located?
As a healthcare volunteer, you will live and work in beautiful Koforidua, located in Ghana's Eastern Region. All volunteers live together in our volunteer dormitory, which is equipped with WiFi and laundry service. Breakfast and dinner are provided Monday through Friday.
Volunteers work in either St. Joseph's Hospital or Koforidua Regional Hospital, just a short bus ride away from the dorm.
Koforidua is less than an hour away from Accra, so it's easy to explore the country during your three-day weekends.
The location of the dorm in Koforidua is ideal. A short taxi ride (or 30 minute walk) takes you to the centre of town, from where begins many a weekend adventure. I'd recommend the Wli Waterfalls in the Volta Region, Mole National Park and Paga in the North, and the many beaches along the coast. - Kate Horan, former volunteer 
How long should you volunteer for?
To get the best experience, we recommend a minimum of four weeks. By the fifth week, volunteers report feeling more at home and engaged in their project.
After a 3-day orientation introducing you to Ghanaian culture, briefing you on safety and showing you around town, your volunteer placement will begin on the Monday after you arrive. Believe us when we say it will fly by. One or two weeks is just not enough to really immerse yourself in the country and the project.
If you volunteer for four weeks or more, you receive a more complete overview of life at the hospital. "A crash course in medicine," as one of our volunteers puts it.
By the end of my 7 weeks here I feel completely safe to travel on my own in the tro-tros, which was something that I felt completely overwhelmed by when I first arrived here. The dorm now feels like my home in Ghana. It has been a comfortable and friendly environment to stay, with living arrangement beyond my expectations. - Ellen-Claire Terer
Our healthcare volunteer projects in Ghana start at $840 for four weeks. Check out our affordable program fees here.
Want more information about volunteering in healthcare in Ghana? Download our free brochure here or contact us with your questions.