I can't believe my four weeks in Ghana is almost over! Reflecting back, it's amazing how quickly I've learnt to forgo Western conveniences, such as bus timetables and public toilets, and embrace Ghanaian conveniences, such as tro-tro (mini-van) shopping. This is the second time I've been to Ghana and it still impresses me that you can buy pretty much anything from the comfort of your tro-tro seat. You can buy breakfast, laundry soap, razor blades, phone credit, school books…you name it! I've found it particularly exciting when stumbling across that thing I gave up looking for yesterday when sent north, south, east and west by well-meaning locals who wanted not to disappoint an obruni (white person) but to point them in the 'right' direction!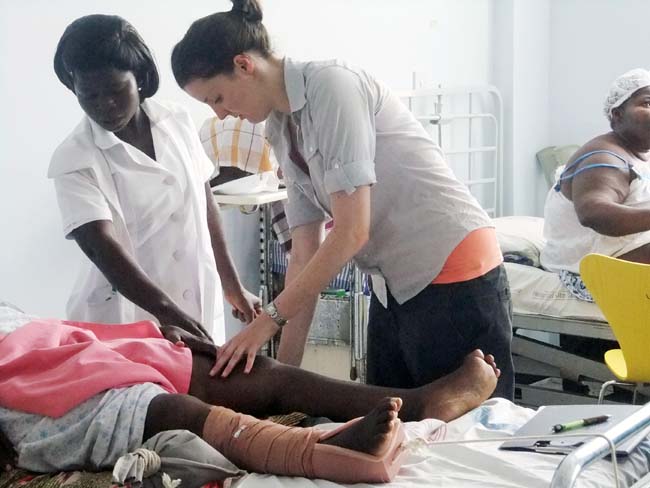 There are many other things I will never forget about Ghana. Among them, walking to work alongside goats, chickens and the occasional cow, the shout of "obruni" followed by the sight of a young child dashing out onto the road to catch a glimpse and wave good-bye, and the chaos of Korofidua on Market Day, a stark contrast to Sunday mornings when the whole town, it seems, is at Church.
As well as having enormous faith, I've found Ghanaians to be incredibly friendly and curious. While incessant calls of "Akosua (Sunday-born), where are you going?" and "Where are you from?" have been overwhelming at times, the hugs and smiles from the children at Orphanage have always managed to make my day!
Popular activities have been colouring, making animal masks and decorating smiley face biscuits (the kids had never seen icing or 100s and 1000s before but were won over when assured it was all sugar!).
Working with these children has been the highlight of the trip; my only regret is not spending more time with them! It would be great to have volunteers teaching English so as to help the kids at school.
I have spent most of my time in Ghana working at St Joseph's Hospital and have been fortunate enough to work alongside three Ghanaian physiotherapists, four Ghanaian students and three other volunteers. Having mostly worked at an acute hospital in Australia, I've enjoyed the opportunity to work in the outpatient department with a mixed adult and paediatric caseload (conditions such as stroke, back pain, fractures, Cerebral Palsy, Erb's palsy and Talipes). If working at St Joseph's has taught me one thing, then it is how to adapt.
Challenges have included testing my imagination skills with limited equipment (disposable rubber gloves serve well as kicking/punching bags for kids with broken arms or legs), rehabilitating patients who have presented up to two years post-stroke (it's not uncommon for patients to seek alternative therapies such as witchcraft and herbal medicine first) and trying to be a makeshift occupational therapist, speech therapist and orthotist (these therapies are either rare or non-existent in Ghana and so it would be GREAT to have people help out in these areas too) all at once.
While being caught outside my comfort zone at times, I have been able to pester my work colleagues at home with incessant questions thanks to the luxury of internet access in the dorm!
The location of the dorm in Koforidua is ideal. A short taxi ride (or 30 minute walk) takes you to the centre of town, from where begins many a weekend adventure. I'd recommend the Wli Waterfalls in the Volta Region, Mole National Park and Paga in the North, and the many beaches along the coast. The Bradt guide is invaluable when making travel plans so be sure to take it along. Failing that, the locals are always willing to point you in (maybe) the right direction!
I hope Ghana is as memorable for you as it has been for me.
My Trip Gallery