As a midwife working in Australia, it had been a dream of mine for many years to volunteer in Africa.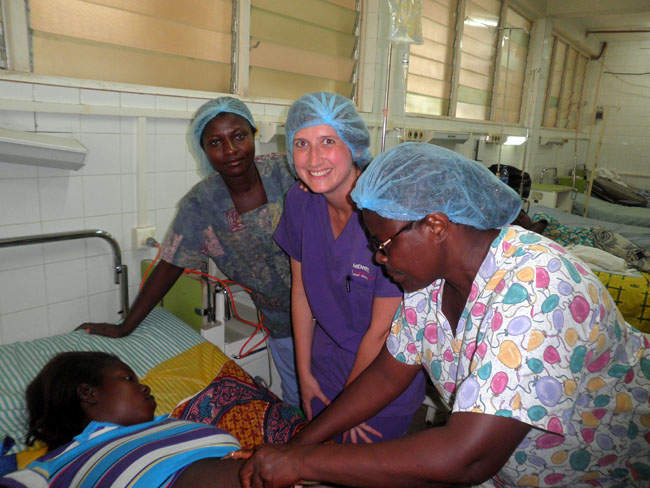 I was excited when I came across uVolunteer during my online research, as it offered affordable volunteer programs, and more specifically Midwifery placements. The uVolunteer website was thorough and informative, offering an easy step-by-step enrollment process. It was extremely helpful to have correspondence with the organization via email to answer my questions regarding my trip to Ghana, such as Visa requirements etc.
With the inevitable nerves of excitement and apprehension of embarking on my adventure to Ghana, it was such a relief and comfort to be welcomed at the airport by Nathaniel and Annette.
Their reassurance and advice has been invaluable during my stay. Especially initially when I felt somewhat overwhelmed and experiencing the vulnerabilities and challenges of culture shock.
The other volunteer and I had an orientation day that offered useful tips and essential information on Ghanaian culture and history. It was also very helpful to have Annette take us for a tour around town. We were shown how the to get to the hospital in Koforidua, and were able to look around the hospital grounds before our first day of volunteering.
I had prepared myself to approach my experience of midwifery in Ghana with an open mind. I wanted to contribute in any way possible, and gain (although over a short period of 5 weeks) some insight into midwifery in this part of the world.
My experience in the pre-natal ward, labour ward, and post-natal (lying in ward) in Koforidua Regional Hospital has been challenging to say the least. It is a busy place! With restricted /limited space and equipment, the experiences and choices of labouring and birthing women is greatly impacted and hence incomparable to back home.
Women share the space of one room to labour. They have only their own strength to get them through their journey. There are no pain relief options, nor is there support from a significant other.
It has been an experience I will never forget. It has given me great respect for the strength and resilience of child bearing women in this country! And reinforced the confronting and often humbling reality of just how much we take for granted.
After what was often a challenging week at the hospital, the 3 day weekends have been a wonderful opportunity to get on a tro tro and explore the beautiful and diverse country of Ghana.
It has been the friendly and welcoming nature of the Ghanaian people that has made my time here so enjoyable. They have been more than willing to help me when requiring directions or advice while travelling.
It has also been great to live with another volunteer in the dorm, as it makes the initial adventures in Ghana much less daunting. By the end of my 7 weeks here I feel completely safe to travel on my own in the tro tros, which was something that I felt completely overwhelmed by when I first arrived here.
The dorm now feels like my home in Ghana. It has been a comfortable and friendly environment to stay, with living arrangement beyond my expectations.
3 tips for volunteers:
If you are a healthcare professional and choosing a Health Care placement, make sure you arrange your verification of registration early; allowing enough time for your registration to arrive and be processed in Ghana!
Embrace the power cuts and moments of no running water as part of your adventure in Ghana!
Come to Ghana with an open mind.
My Trip Gallery