What if I couldn't find this mystery girl, Marionella, who was supposed to pick me up? But my nerves were instantly soothed when I walked out to see Nella standing, or better suited to say dancing, with a uVolunteer sign and smiling. I immediately felt welcomed and at ease. The airport pick-up certainly couldn't have gone over any smoother.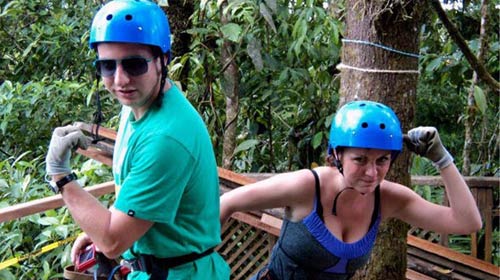 As soon as we arrived at the dorm house I cheered wildly inside- it was beautiful and clean, and the most delicious traditional Costa Rican breakfast was waiting for me. And soon my best friend from home would be joining in on all of this excitement with me!
As I got to know all of the staff, fellow volunteers and the town throughout my first weekend here, San Ramon quickly started to feel like home. However, my nerves came back when my first project day arrived. But! Once again, Nella was there to save the day. She brought us to our project site, the orphanage Hogarcito in Palmares, and introduced us to the Tias and all of the children.
My project was the most heartwarming and heartwrenching experience. These adorable young kids stole my heart a little more each day. On the surface their lives look simple and beautiful. They have 12 fellow playmates, nice clothes, clean hair, a safe and new house, and loving and devoted Tias to care for them. They are laughing and running and playing. But then you remember what's beyond the surface. Some of these kids have lost their parents, a devastation I can't even fathom. Some have been neglected or abandoned. Others taken away due to different forms of abuse. All of these children have endured much worse hardships in their short lives than I have in my 22 years; yet they are still laughing and running – they can still find joy in life. Seeing that, it changes you.
The thought of leaving these kids breaks my heart. Even though some moments are tiresome and testing, filled with whinning or temper tantrums (hey, in the end they are still just kids!), most of the time is filled with crafts, playgrounds, sports and simply being goofy togehter…in other words, building bonds and friendships. They have taught me so much by opening my eyes, changeing my persepective and touching my heart; I only hope I have made a positive impact in their lives as well. Anyone who gets an opportunity to spend time with these children is truly blessed.
Thank you, uVolunteer, for giving me such and inspiring and heart-changing experience. I have grown in so many different ways in just four short weeks. Thank you and God bless!
I Love Costa Rica!!!!
My Trip Gallery