I was expecting to be staying in the dorms, but ended up staying in a homestay with a couple other volunteers. I am so so glad, because it was a wonderful experience and I still got to spend time with other volunteers staying in the dorms, as well.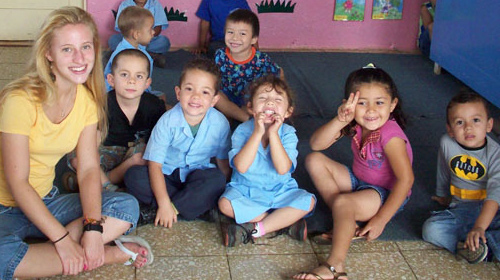 When my roommate and I were brought to our homestay we were greeted by a lovely older woman, Dona Nidia, who welcomed us into her home.
Dona Nidia truly became a grandmother to me, and I enjoyed my time spent with her so much. We would have coffee and desserts together, go to mass, go out for hamburgers, all kinds of things! It was also really cool meeting all five generations of her family when they came over on the weekends. Also pertaining to my homestay, I had the most wonderful roommate in the world. We got along so well, and she instantly became a really close friend. She left a week before me, and her presence was greatly missed in the house, both my Dona Nidia and myself.
As for my project, I was working in a daycare center in Piedades Sur, which was about a 35 minute bus ride from San Ramon. I absolutely loved my project! The children were so adorable and playful, and I learned a lot of Spanish while at the same time teaching them basic English. Hazel, the teacher, was so welcoming and funny, and even invited me over to her house to meet her family and spend time with them. Also it was really great getting to know the two cooks, Lupe and Lidia, at lunchtime when I would eat with them and the teacher.
On the weekends I was able to travel with other volunteers to places like Jaco, La Fortuna and Montezuma, where I was able to surf, see wildlife and waterfalls, swim in the natural hot springs, and go ziplining through the canopy.
Also, I went on a weeklong trip with 11 others during the schools' holiday week, and we went to Turrialba to do white water rafting, Gandoca to do turtle conservation and Puerto Viejo just to relax and enjoy the Caribbean.
Overall, my experience was amazing, and I would recommend it to anyone looking for a wonderful experience abroad where they will meet close friends and experience the culture and sights of beautiful Costa Rica!
My Trip Gallery