Upon arrival the staff was great. We had a welcome dinner at the dorm and hung out that night. The next day we were given a tour of San Ramon and given a packet full of information about the town, the country, the culture, and our projects. Orientation day was quite helpful. We were also given a small orientation our first day at our projects. A staff member took each of us to our project so we would feel comfortable getting to and from the location.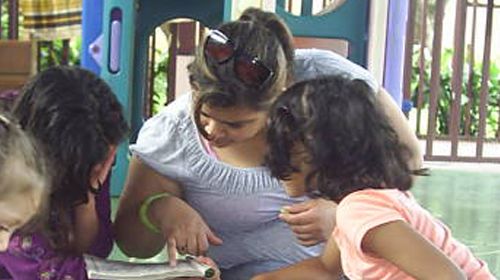 I truly enjoyed my time at the orphanage. The kids were so welcoming and loved having visitors.
It was very evident the difference that volunteers make in each of their lives. A typical day as a volunteer included a variety of activities like drawing/coloring, reading, playing soccer or basketball, dancing, singing, etc. They enjoyed dancing and playing soccer most of all. It was also a pleasure getting to know the tias. They are great role models for the kids. The tias always treat the kids with affection and nurture them.
During my time in San Ramon, I chose to do both a dormitory stay and a home stay. I would recommend this to volunteers. It is a great experience staying in the dorm as you meet a lot of people and most likely travel on the weekends with the people in the dorms. It is also fun getting to meet so many people from different parts of the world. A home stay experience is also worthwhile, though. During the home stay, chances are that you will speak nothing but Spanish, which is a great way to learn. It is also a great experience because you are truly able to see what it is like to live like Costa Rican families. The families really enjoy having visitors and treat the volunteers like family.
Traveling during your downtime is definitely worthwhile. I would recommend to any volunteer to try and see as much of Costa Rica as possible.
In 3 weeks I was able to visit beach areas like Jaco, Montezuma and Santa Theresa. I also did the zip lines in Monteverde, which were amazing. Getting around can be a long process, but it is very easy. The buses are reliable or people may choose shuttle service, which is typically faster. Despite the long process, though, I am glad that I was able to do so much sightseeing before I left.
uVolunteer is a great organization. Their purpose isn't just about helping the community but also about helping people grow as individuals. In three weeks I learned so much about myself and who I want to be. It was such a rewarding experience and I hope that I will have a chance to complete an opportunity like this in the future.
My Trip Gallery