I had an AMAZING 4 weeks at my project in San Ramon, and made friends that I will never forget.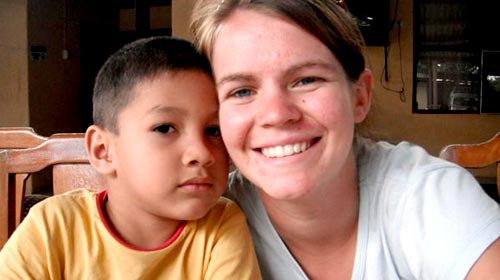 I spent 4 weeks at the Hogarcito Children's Home in Palmares, a short bus ride from San Ramon. I was there with another volunteer from Finland and we had an absolute ball. Every day from 2 till 5 we would play with between 3 and 10 kids, doing lots of coloring, skipping, and football. I had very basic Spanish and often couldn't understand the kids, but they were very responsive to my enthusiasm.
Leaving after just 4 weeks was really hard, you couldn't help but become attached to them.
I chose to stay in the volunteer dorm, which was a blast! I had the privilege of living with people from all over the world, and there was always someone to chill out in the hammocks with and share stories. We had so much support from the uVolunteer staff, Marianella and Andres, they were always checking up on how our projects were and if we were enjoying ourselves. Dona Isabel cooked us delicious Costa Rican breakfasts and dinners!
I travelled every weekend I was there – to the Caribbean coast where we slept in hammocks next to a black sand beach, to the Pacific Coast where we saw monkeys, dolphins, turtles, and whales. I also went to the Arenal Volcano and the hot springs there. Travel in Costa Rica is very easy, especially with the other volunteers.
I don't think there is any need to be apprehensive about coming to Costa Rica. The people and the uVolunteer support makes the experience so easy to enjoy. I've had the time of my life.
Thank you uVolunteer!
My Trip Gallery