uVolunteer, especially, has been encouraging and supportive. The weekly meetings are a great chance to check in, ask questions, voice concerns and get to know the staff and other volunteers, and the activities have been fun and have given us a chance to see more of the surrounding area. (Look out for the rain, though!)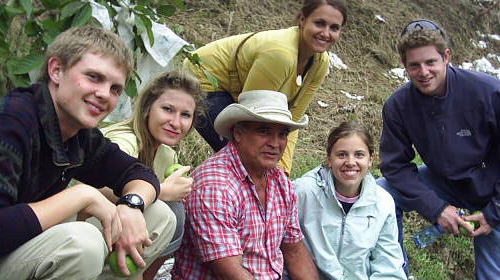 Our actual volunteer placement has been by far the most challenging aspect of our time here. We have been working at an albuergue, a home for children who have been removed from their homes and are waiting for adoptions, to go live with another family member or to return home. Their lives have been disrupted and they have suffered and seen too much, and thus they can be hard to work with at times. However, they are also eager for attention, eager to learn and always ready to play.
We spend four hours with them every Monday-Friday and have gotten to know each of them well over the last four months. Some days are very hard; others go quickly and smoothly.
Whenever I get frustrated or discouraged, one of the kids shows up with and "I love you" card. Other times they randomly tells me how glad he or she is that I come every day, and I reminded why we are there. The variety keeps us on our toes, we are never bored and we have learned so much from the kids and from our time there.
We have also had the chance to do a lot of traveling and can make all sorts of recommendation about places to stay, things to see and food to eat! In general, I definitely recommend uVolunteer and Costa Rica to anyone looking for an adventure. It's hard to believe we will be going back to the US soon, but I treasure my time here and look forward to coming back!
My Trip Gallery