The Journey out was quite, well, a journey! It took about 15 hours from the time we left Utah to travel through Arizona, California, Texas, and make our way to our homestay. I believe I managed about 2 hours of sleep total throughout the whole process, but it was well worth sacrificing sleep. They need to do something about those airplane chairs anyway. Seriously, they recline like an inch and even with the head rests that continental has on their flights that you can fold around the sides of your head, you still fall forward. It makes it kind of uncomfortable.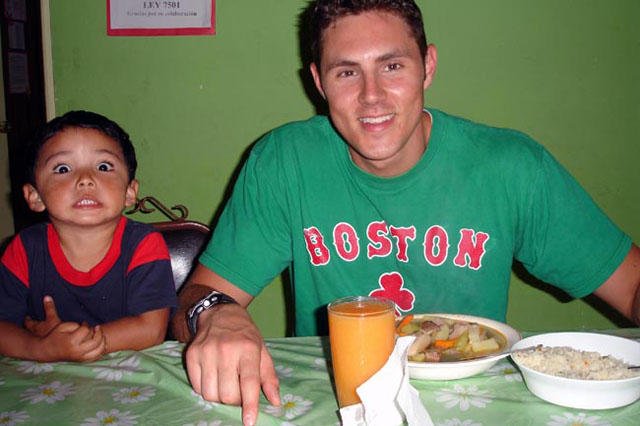 When our flight arrived, we soon met our coordinators for Uvolunteer. Fiorella and Meaw spoke English perfectly, which was GREAT news to me! We hopped in a Taxi with them and then a Bus and then another Taxi and made our way to Donna Mercedes home in San Ramon and met our family. Everyone came around to meet the new Americans and were SO nice. I spent most of my time here asking my wife, Katrina, what everyone just said and asking how to say things so that I could fumble my way through trying to answer their questions to me. I must have sounded absolutely ridiculous, but it was new and exciting and fun, so I'm not complaining about it in the least. We spent most of our first three days getting to know our way around San Ramon and drinking Hugo de Pina at every opportunity (that's fresh pineapple juice).
The food here at the restaurants is actually great and everything seems to be just about half the price it would cost in America. The other volunteers we met are really great people.
We lived with a wonderful host family during our stay in San Ramon. They were caring and considerate and made us feel right at home. Donna Mercedes is an excellent cook and we felt as though we were given a feast each time we sat down for a meal. We were given our own room with a key and, even though our bathroom was shared with the rest of the family and additional volunteers, we felt that we had plenty of privacy.
Our first placement was working in a city just west of San Ramon called Palmares in, more or less, a day care. The interesting thing about this day care is that it is run by the Costa Rican government for single mothers who must work to provide for their families. We take the kids for a four hour period either in the morning or the afternoon while the mothers work a part time job. The government donates Rice for the kids, and other companies in the surrounding area donate funds or food so that they can have Milk or other vegetables. The kids are SO cute. One of the full time workers in the Care center said that sometimes the meals served to the kids and mothers was all the food they ate that day. Its definitely troubling to think about, but so fulfilling to have the opportunity to help in any small way we can to relieve some of the burdens from these families, especially the children.
Our personal favorite part of each day was teaching the Adult English class for three hours a night at the local community class rooms from 7 to 10pm.
It really made Katrina and I feel like we were contributing to the strengthening of the Costa Rican society. Don't get me wrong, I think it is of the utmost importance to play with the kids and give them the attention and love that the teachers in the care center say they don't get at home, but its hard to tell if we are making a difference. Our personal preference was in teaching English to the people at the community classes. We were told that a lot of American companies have opened big centers in Costa Rica and in order to get a good paying job, above the 13,000 dollar per year average, one has to be bi lingual. It's an occasion to help them not only learn a language, but in a round about way aide them in providing a good living for their families.
An additional highlight of our stay in Costa Rica was the opportunity we had to travel around every weekend. Our adventure here lasted just under five weeks, which gave us just about 12 days of relaxing on every beach we could find. Most of the traveling here is done by bus, but for around six dollars you can make your way all the way across the country if needs be.
Some highlights from our travel Journal:
Montezuma: The next morning we were awoken by the sound of crashing waves, and opening our terrace window saw that our room was only 50 yards from a picturesque white sand beach surrounded by miles of Green Rainforest. We couldn't have woken up to a better scene. The days were spent relaxing on the beach, laying in hammocks while falling asleep to the sound of crashing waves, watching teams of monkeys crawl over us high in the trees, eating at a tranquil open air restaurant, and drinking as much absolutely fresh juice as we could possibly handle.
Alejuela: We made an appt this evening for a candle light Jacuzzi dip for an hour in our own private Jalapa hut. The water was definitely warm, and beyond relaxing. The candles were just an addition to the already fluorescent "Lightening bugs" that kept flying by as we sipped on our fresh Pineapple juice while enjoying the view into the rainforest canopy.
Palmares: On Thursday I finally felt I was able to contribute to the environment of the Kinder by doing something other then being "lindo" (cute) by messing up Spanish words when speaking to the older Spanish women there. In an instance I went from the guy who speaks no Spanish except for "da me la mano" (give me your hand), which I found works for everything, to Airplane folder extraordinaire. If the children weren't four and younger, I can imagine they would have hoisted me upon there shoulders while chanting in unison "Un Avion, Un Avion" (An Airplane, An airplane). Well, at least that's how I imagined they felt about my airplane folding abilities. So, yes, we had an airplane throwing extravaganza that lasted about 10 glorious minutes, and then it was back to running around speaking foreign languages I didn't understand.
La Fortuna: This was where adrenaline pumping adventure and serene landscapes met somewhere in between, creating a sensational ecstasy that can only be appreciated by actually participating in the event. The longest zip line was actually half of a Kilometer long over the tops of a rainforest canopy, with additional miles of rainforest on your left and a massive picturesque lake and a towering billowing volcano on your right, creating a thrill unsurpassed by many things in this life.
The Greatest part about all of this is that because of Uvolunteer, it can be done on a Student budget.
They keep the prices affordable while still enabling all to have modest living conditions, the ability to be surrounded by great people, and the opportunity to make a difference in other peoples lives.
Leaving Costa Rica was and will be a challenge. Tears were shed and hugs were given. For anyone debating whether or not service abroad is for them, just go, you won't regret it. We definitely never will.