My arrival was interesting. First I flew to Newark and got a connecting flight to San Jose. When we were about an hour away from San Jose, we were told that we had to circle the airport and wait for the weather to lighten. After an hour, the weather only got worse so we had to divert to another airport, so we ended up going to Nicaragua. When we landed we were told that we could not disembark the plane because the airport was closed and so was customs. After an hour of waiting they allowed us off the plan into a closed off section of the airport. After another hour of waiting they told us to board the plane quickly so we could make it to another airport before it closed.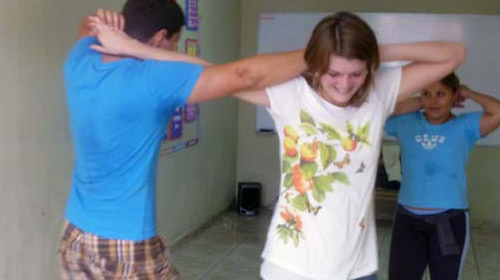 After quickly boarding we were told that the tower control wasn't letting us take-off, so after another hour of waiting we had to disembark the plane once more. After that they finally got us hotel rooms (it was about 1:30am). It was an adventure, and I got to see part of Nicaragua so I think it was worth it. I also got to meet two people that were in the same position and hung out with them most of the time. At 11 the next day, we got to finally take a plane to Costa Rica. After getting to Costa Rica, I got picked up by Wagner.
I spent the first two weeks of Costa Rica in Spanish Language School. It was a really cool experience and I learned a lot of spanish in those two weeks.
The school was very nice and the teachers were all friendly and helpful. My homestay family was very accommodating and the experience was interesting because it allowed me to see how an actual family in Costa Rica lives. If I could choose again I would want to stay longer in the Spanish school because it was very helpful toward learning a new language and the place was really nice.
After two weeks of school I got picked up by Marianella, the program coordinator. Right away Marianella was very friendly, and made me feel comfortable even in the new settings I found myself in. She gave me a orientation the day I got to the dorm, and the next day we walked around town. Marianella's english is next to perfect, but at the same time it was nice that she could communicate with the locals fluently. The dorm is a nice house with 5 bedrooms and two baths. The best part of the dorm however is the house mom, Dona Isabel. She is a very warm and caring person and always has a smile on her face. She can also cook very well, and will always make sure you are happy.
My program was to volunteer at an orphanage for five weeks.
The first day that I got there I was a little bit timid because I could barely understand the language, and speak it even less, but most of the kids didn't really care about my lack of spanish knowledge.
I felt like I could have helped out in the orphanage more if I knew the language but I still felt like I made at least a little impact. Overall though I enjoyed working at the orphanage. When I was there they brought in a baby that was only 9 days old. It was a little sad to see that at so young an age the baby was given up. The younger kids were adorable, I wanted to take one home with me. The older kids were a little roudy, but definitely manageable, and they were really nice to me once I got to know them. I'm really going to miss the kids when I leave.
The weekend trips were amazing. I went to Montezuma, Manuel Antonio, and Puerto Viejo. Montezuma and Manuel Antonio were my favorites. The beaches there were amazing, and the animal life was also astounding. Within an hour of checking into the hotel in Manuel Antonio, a group of 11 monkeys came to the hostel and we got to feed it bananas. It was really cool being so close to the animals. We also got to see sloths, howler monkeys, Iguanas, and Raccoons. Since your volunteer programs are usually monday-thursday, you have plenty of time to explore the country. This is made even better because Costa Rica is such a small country. You can travel from one side to the other in half a day.
Costa Rica as country is really nice. San Ramon is a lot friendlier than San Jose, and you actually feel safe walking around. Costa Ricans for the most part are very friendly people, and if they see you trying to speak spanish they will do their best to help you out. The night life here is also pretty fun. There is a univerity in town so the college students make it more enjoyable.
The food here is also pretty good, and best of all it is cheap. For $4-$5 you can get a whole meal (when you aren't eating Dona Isabel's food).
Overall I had a really good time. I met so many nice people, I learned some Spanish and I felt like I really got to experience new things. The orphanage sort of opened my eyes on how some people have been given less to start with, and made me aware of just how luck most of us are.
My Trip Gallery