The uVolunteer staff is fantastic; everyone is so sweet, caring, attentive, and welcoming that I instantly felt at home in the dorm. Also, I think it's great that uVolunteer allows such a good friendships to form between staff and volunteers, and that there is not a huge separation between the two. The accommodations are great, the food that Dona Isabel cooks is always delicious, and she always keeps the house very clean and neat. Furthermore, I feel that the experience that uVolunteer offers attracts the best kind of people. All of the volunteers are so nice, so much fun to be around, so kind, and so funny and I have just had a blast with everyone, the staff and the volunteers alike.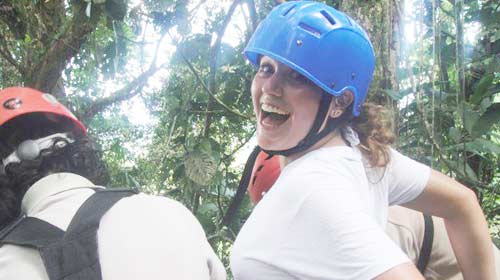 Concerning the location of the dorm and my project, San Ramon is great. .
The city is lively without being too loud or too crazy, it's very easy to navigate, and the transportation to other locations is extremely convenient and cheap.
I have found people in San Ramon and in Costa Rica in general to be very friendly and helpful. This is a great place to live during the week, and on weekends the buses allow you to travel easily and inexpensively to all of the other wonderful places in the country.
As for my volunteer project, I work in Bajo Tejares at the community center, and I love it. I have never witnessed such poverty, nor have I worked with children who live in such conditions, but I have found the experience to be extremely enlightening and uplifting. My first day walking through Bajo Tejares was both shocking and heartbreaking. I have ever seen such a poor community before, and it devastated me to see people who live with nothing when I have close to everything. However, after working with the children and seeing the bright smiles on their faces as they walk into the center every day eager to work and play, I have realized that regardless of the conditions under which they live they approach life with optimism and positivity, and because they have so little, they have a profound appreciation for everything. I think the community center in Bajo Tejares is an incredible establishment. It provides the children in Bajo Tejares with the opportunity to learn and play in a safe and loving environment every day. I am so thankful to the staff at the community center for the opportunity to work at Bajo Tejares.
Yet another great thing about uVolunteer is the long weekends, because it gives volunteers time to travel around the country and experience all that Costa Rica has to offer.
My trip was only three weeks long, but I was able to visit Puntarenas, Quepos and Manuel Anotonio, and La Fortuna. Traveling with Daryl, Tanya, Georgia, and Bridget has been so much fun.
We all get along so well and we are always laughing. The weekends have been just as amazing as working in Bajo Tejares. Also the flexible work schedules allow you to have some fun on week nights too, for example the nights I spent dancing in Palmares!
Overall, I have loved every second if my time in Costa Rica and with uVolunteer. I wish that my trip was three months long instead of three weeks. I am devastated to be leaving such good friends and such a wonderful place, and I sincerely hope that I will be able to return in the very near future.
My Trip Gallery