During the following four weeks, I worked at a Childcare center called Albergue, located in Naranjo. At this place lived thirteen children, 24 hours a day, all having different backgrounds. At the beginning is was quite difficult to approach those kids in the right way, because they were not used to me, and for me they were also new. They were continually 'fighting' to get my attention, as if they were not used to play with somebody else than other kids in the center. When time went by, there came more structure in the activities we did (such as teaching English or mathematics, playing games and painting), and I knew more what every child preferred to do.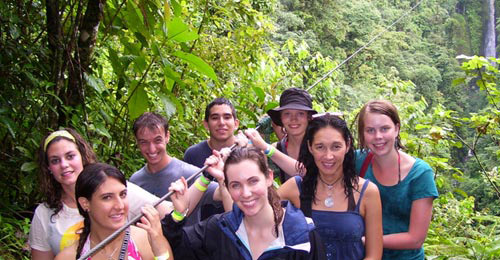 Not only did I not have a great time while working, but also during weekends. In the first weekend uVolunteer planned a trip to La Fortuna. We visited a huge waterfall, after having a horseback riding tour, we then swum in the Baldi Hotsprings, and we saw lava coming out of volcano 'el Arenal', after making a hiking tour.
I had much fun with the other volunteers of the group, and that's the reason why I went to Manuel Antonio with a few of them in the following weekend.
It was really beautiful to see it's white beaches and palm trees, and seeing monkeys and swimming into the Pacific Ocean was great.
A recommend for everyone is to go to Monteverde, that what I did in the third weekend. I always will remember the moment of making a canopy tour through the forest and the feeling I got doing the Tarzan swing. Beside this Monteverde is an excellent area to make walks (and get lost!) and see the most extraordinary animals.
Because of the contact with my host family and the kids at the center (who didn't speak English), I practiced my Spanish. Time went by very fast and I think the period of one month I have been staying here is far too short, because there are much more places to visit and more things to learn.
For me the whole project was full of challenges: working with the kids, getting involved into another culture and learning a new language.
I want to thank uVolunteer, my host family and all the people I met this vacation, for making my stay in Costa Rica to a great experience which I will never forget!
My Trip Gallery