For the past four weeks I've spend my days working at CEN La Union, a day care center. My time there was very rewarding and lots of fun. The kids range in age between 2 and 10 and many come from low income families. The CEN focuses on education and nutrition so aside from playing with the children and teaching them family values they also provide breakfast and lunch. A large portion of the time is spent making sure the kids get fed and teaching good hygiene. The kids are very sweet, loving and appreciative of the love and attention they receive. They are very welcoming to the volunteers, I felt at home from the very first day.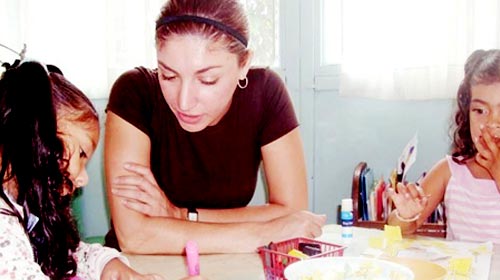 Every morning as I walked into the center the kids would great me with hugs and kisses, it felt so nice to see how much they appreciated my help. I loved to sit and play with them, to see their sweet innocent faces light up with simple gestures of kindness.
The entire experience was very fulfilling, the staff at the center constantly mentioned how much they appreciated me being there to help, even the simplest task was received with extreme gratitude.
I am very happy that I was able to share so much time with the CEN family, the center was the perfect place for me to volunteer my time at. I walk away with deep affection for the Costa Rican culture and a great desire to return. I am truly appreciate of the experience and of what life has given me.
The time at the dorm has been an experience in itself. The staff I was able to spend time with was great and always ready to help. All though there were a few rocky moments, in the end things worked out. Dona Isabel was great, her motherly nature and sweetness made the time away from my family easier to bear. She will definitely be missed, our morning chats always set the mood for me to start my day…she such a vital part of our volunteer experience.
Living with a large group of people made for fun times, it was great to meet people from different paths of life. Sharing our stories and learning why each one of us was here was a great bonding experience.
The people here will always hold a special place in my heart, they helped make my time in Costa Rica even better.
Helping other people and sharing the moment with such a great group is exactly what I needed at this point in my life. Thank you uVolunteer for bringing us all together.
My Trip Gallery