A year in advance I knew I wanted to do a volunteer program for my summer vacation – the hard part was finding which organization. I looked for programs in Latin America so that I can practice and improve my Spanish. I also looked for programs with flexible schedules and interesting volunteer opportunities. With a stroke of luck, I stumbled upon uVolunteer. uVolunteer ended up being the best bargain for what I wanted out of my summer. It was the cheapest program, offered Spanish language immersion classes, and had a time frame that fit perfectly into my schedule. The program I decided to do was help at an orphanage in San Ramon, Costa Rica for two weeks, along with three weeks of Spanish language classes in San Jose before my volunteer project.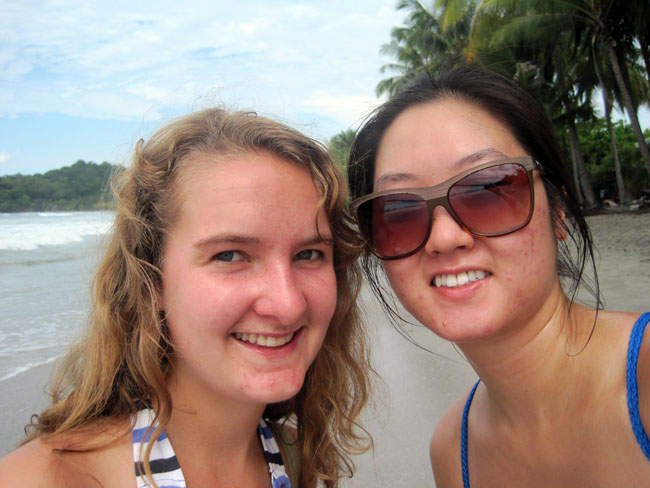 uVolunteer went beyond my expectations. In San Jose I lived with a very pleasant homestay family. Every morning before going to class I would have a conversation with my casamama during breakfast, in Spanish. Sometimes we would talk about the weather and other times we would share our life philosophies. She was incredibly patient and respectfully corrected my Spanish whenever needed.
The three weeks of Spanish language classes at Epifania School did more for me than the two years of Spanish struggle in college. As a surprising consequence I actually began to forget some English vocabulary! Classes were intimate, usually just two students per teacher, and the lessons consisted of conversation and grammar study. With this intimate setting I quickly became attached to all the teachers and students at the school, so that when my first three weeks were over we all had trouble saying ciao, preferably hasta luego.
Adjusting to San Ramon was easier than I expected. The accommodations were luxurious, in comparison to what I thought I would have to live with.
The San Ramon volunteer house is a beautiful two-story home that feels like a higher-end hostel. There were about three student volunteers and two family volunteers, with seven of us living in the house. Though there were a lot of us in a lot of different volunteer projects, we all became a tight knit group within the first weekend.
As I mentioned before, my volunteer project was working at an orphanage. I remember the first day I went to the orphanage I was so shy and timid with the kids, but soon I was able to warm up to them and bond with them. Though there were about ten kids, I mainly played with four or five of them ranging from ages four to seven. From Monday to Thursday I would go to the orphanage for four hours and play with coloring books, Play-doh, puzzles, jump rope, and bicycles. The other volunteer and I had to constantly come up with games to keep the kids active. Sometimes the other volunteer would buy toys for the kids such as balloons and a tea set. Though I expected to be teaching the kids English, I realized that these kids just needed someone to play with.
After my volunteer work at the orphanage we had the option to teach English to university students and adults at the University of Costa Rica. Though this was optional volunteer work, it was my favorite part of the week. It was so interesting being on the other side of the language learning experience.
Every time I went to teach the students I kept in mind the methods that worked for me when learning Spanish. On top of that, I really enjoyed just talking to the students and learning about their life.
After one teaching night another volunteer and I made plans to visit one of the students at her bakery the next day, and when we did the student gave us one of her cakes!
Ultimately, the reason I wanted to do a volunteer program is because I enjoy immersing myself in the culture and befriending locals. Travelling as a tourist you get to see the beautiful and spectacular parts of Costa Rica, but it makes it difficult to really immerse yourself in the Costa Rican culture. With uVolunteer I was able to make lifelong friends with local ticos and other volunteering gringos, while stuffing up on Costa Rican food and creating a few tourist-y memories on the weekends. Basically I was able to have my cake and eat it too thanks to uVolunteer. uVolunteer is tuanis!
My Trip Gallery