The dorms are clean, comfortable, and very home-like. Our host mother Dona Isabel's cooking is AMAZING. To be completely honest, Dona Isabel was definitely one of the highlights of staying in dorms! She would even take care of us when we were sick. I'm really going to miss her, and her cooking. Something that's really nice about travelling and especially volunteering is that the people you meet in the dorms are so similar to you, yet so different. Everyone is kind, open-hearted, and giving (which is probably a given, considering that they're doing the selfless act of volunteering). Most everyone is looking to learn things about themselves and others, as well as a new culture. This being said, everyone is so different, coming from different places. They have different beliefs, backgrounds, and morals. Living in dorms was definitely a great choice, and something I would do again without hesitation.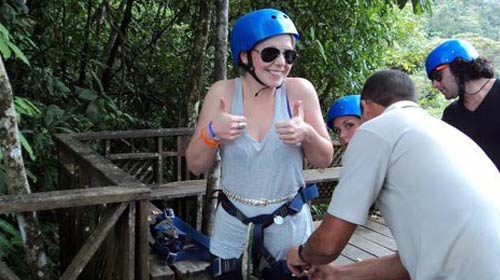 I worked in the orphanage "Hogarcito" in Palmares. My friend and I both worked together on this project which is definitely something I would recommend. We had a lot of fun and it's really nice to have someone to share the experience with. Hogarcito is a really nice orphanage, and Shawna and I were both very happy to se how well the kids were taken care of. The tias (the women who take care of the kids) were always so kind to us and appreciative of our time. We did many activities with them, like skipping, soccer, playdough, chalk, and colouring. They LOVE to colour. They're always saying "Muchacha!!" (what they called us), "Pinta!!!"(colour!). They also really love playing house in their "casita", and playing on the swings. Getting to know the kids was definitely an experience. One thing we were taught about the kids was that many of them actually do have parents, however, there was some factor that made it not possible to live with them. It may have been lack of money, sexual abuse, or another things. Some of the children's parents came to visit them once a week, which made the kids ecstatic.I'm so sad to leave the kids! It's really amazing, the connection you build with a child after only four weeks. There's something special about kids in orphanages; after all they've been through, they still smile and laugh everyday. It leads you to a whole new appreciation of life.
During our four weeks in Costa Rica, we travelled every weekend (which I definitely suggest you do!). We went to Puntarenas the first weekend and relaxed on the beach. The next weekend, we travelled to La Fortuna and saw Volcan Arenal. If you can, go! Stay at Arenal Backpackers Resort, and do as many tours as you can! The next weekend we went to Tamarindo. Tamarindo is so much fun, no matter what you're into. Beautiful beaches, great clubs, and great beach parties! It's also a great place to learn to surf. And don't worry – most people speak English here. We went to Puerto Viejo on the Caribbean coast for the next weekend. It's a major party town, but it's also ideal for relaxing. Stay at Rocking J's if you want to party. Also, if you can, rent bikes for a day and voyage through and past the town, there is so much to see. Puerto Viejo has a lot of culture, and a LOT of Bob Marley. The dorms were a really great way to meet people, because we got to do all this travelling together!
All in all, volunteering in Costa Rica with uVolunteer was an amazing experience.
My tips!
– don't judge Costa Rica by San Jose. It's not even close to similar.
– eat Trits, and nachoes, as often as you can.
– keep your mind open to new food, new places, new things, and new people
– recognize and remember that even if a culture is different from yours, it is by no means inferior. It works for them, and they're happy.
DON'T hold back – live and let live.
My Trip Gallery