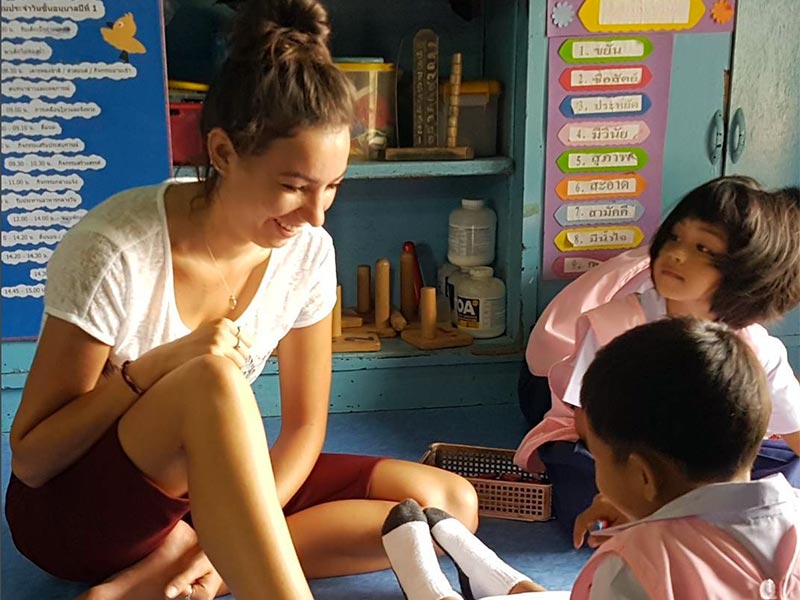 With its delicious cuisine, welcoming people and constant beach weather, Thailand is a popular tourist destination. But as the economy thrives, some people are still being left behind — particularly in rural communities, like Trat where our volunteer projects are based.
Public schools in these poor communities often lack essential resources and welcome the extra help in the form of volunteers. Regardless of whether you have teaching experience, volunteering as an English teacher is a great way to improve the lives of students in Thailand.
Here's why you should volunteer to teach English in Thailand.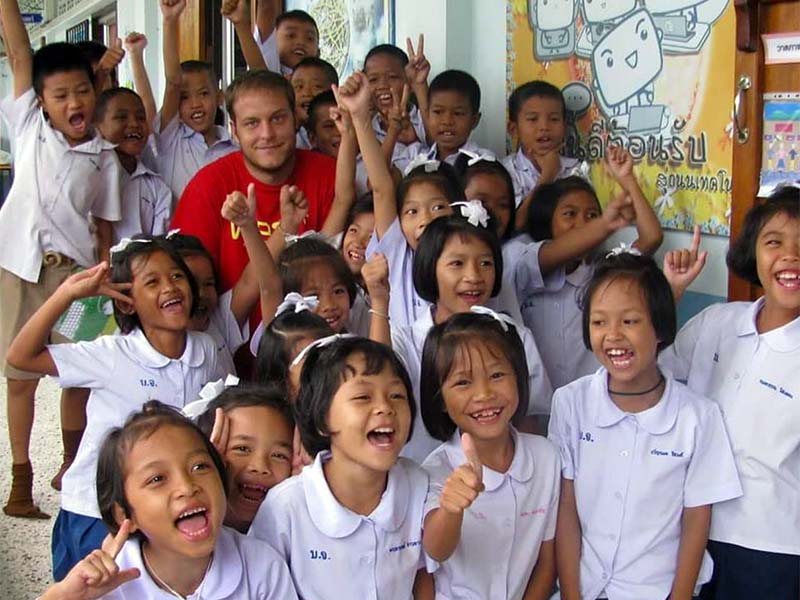 You have important skills to offer
English is a necessary skill for landing a good job in Thailand, especially in tourism, which is the country's leading industry. However, teachers in rural public schools often don't speak English fluently. While they can teach the basics, like grammar and spelling, they lack the confidence to speak the language themselves.
This means students miss out on opportunities to actually learn by speaking. And that's where you come in.
As a native English speaker, you can help students practice speaking conversationally, improve their pronunciation and learn useful vocabulary. You can provide personalized attention in large classrooms, teach children about your own culture, and introduce interactive games, songs and other fun activities to get them engaged.
I was amazed and impressed at the passion shown by the teachers, as many of them want to give, give, give to help these students learn more, while being so pressed for time and resources that any assistance from a foreign volunteer helper is so welcome.

- David, Thailand volunteer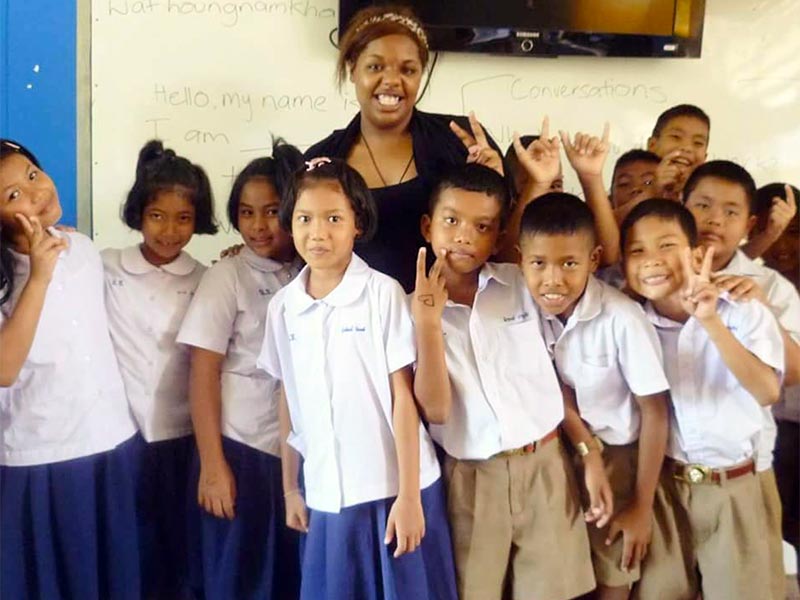 You'll gain actual classroom experience
When you volunteer to teach in English in Thailand, you'll work with students in public elementary schools and other community institutions in Trat. The time you spend in the classroom supporting qualified teachers, developing lesson plans and actually teaching will provide valuable work experience. And it will look great on your resume!
If you're looking to go into teaching, international experience can be impressive to employers and set you apart from your competition. You can even use this experience as a starting point for a paid job teaching abroad. English teachers are in demand not only in Thailand, but in many other countries as well.
But regardless of what field you're in, volunteering abroad can help your career. From gaining confidence interacting with students to working on your presentation skills, you'll gain a variety of skills that you can apply in almost situation.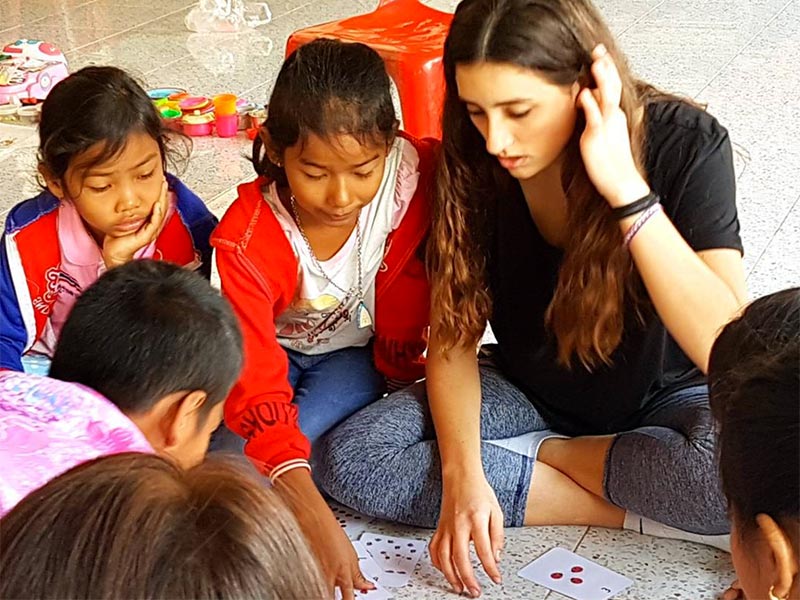 You'll learn a new language
Speaking of skills... As you teach English in Thailand, you'll naturally find yourself getting better at Thai. Volunteering abroad has a way of doing that.
I joined this program as an English 'teacher' – and this teacher was also a student in so many ways!

- Letty, Thailand volunteer
There are plenty of opportunities to learn the local language, like when you're trying to communicate with the local teachers to plan lessons or when your students correct that Thai word you messed up.  
You can apply the same techniques you're using in your classes to yourself. For example, you can deliberately practice the Thai equivalent to the English vocabulary you're teaching or listen in on the children's conversations at recess. Immersing yourself in the new language is the quickest way to learn.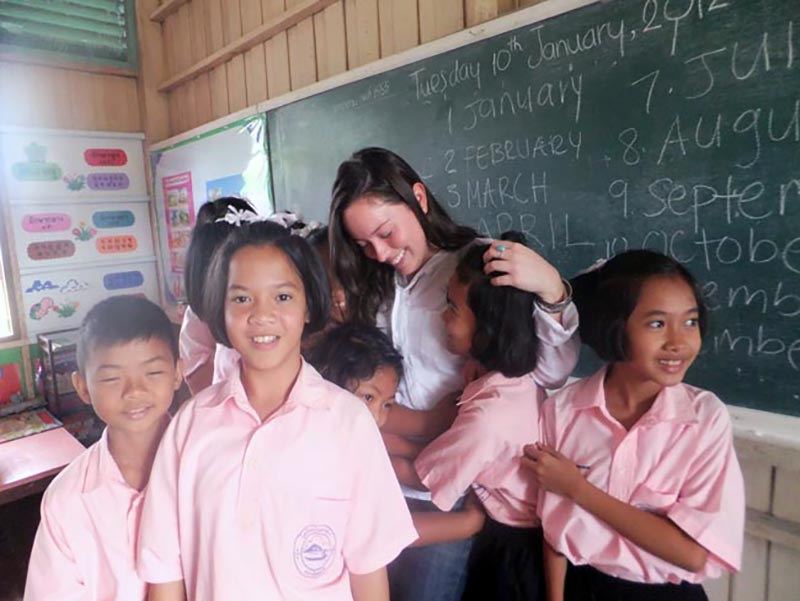 You'll experience a new culture
What better way to learn about a new country than to live and work there? When you volunteer for at least four weeks, you'll not only see the impact of your work on the students, but you'll start feeling more at home in Thailand. 
Sure, visiting the temples and beaches are great — and you'll definitely want to do that on your weekends! But it's the day-to-day interactions that will really help you get to know the country in an authentic way.
By taking the bus to work everyday, having lunch with your fellow teachers and getting to know your smiling students, you'll gain a real window into what life is like in Thailand. Just don't blame us if you find yourself wanting to stay!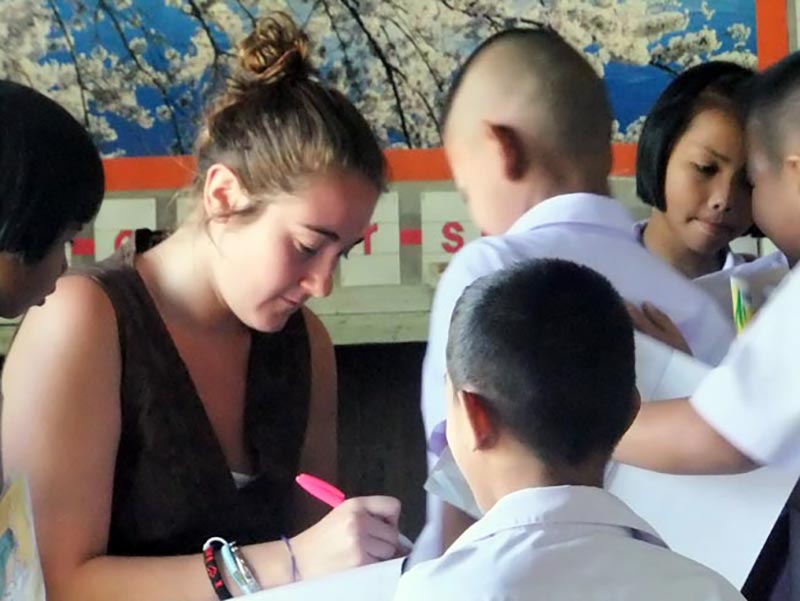 But what if you're not a trained English teacher?
Don't worry. You don't need a TEFL certificate or even previous teaching experience to volunteer to teach English in Thailand. 
As someone who's either a native English speaker or bilingual, you have the exact skills that are in short supply in the schools we work with. Working side-by-side with qualified teachers or leading individual classes (with professional guidance), you will be playing an important role in the education and future of these children.
Along the way, you'll be helping the teachers practice their speaking skills too, which will enable them to teach more effectively for years to come. So you'll be making a lasting impact that continues long after you've returned home!
Apply now to start your own volunteer adventure in Thailand.