After recently returning from teaching English for two weeks in PhonPhisai, I can honestly say it was one of the best experiences of my life.  I have traveled quite a bit previously throughout Southeast Asia including Thailand, but was drawn to uvolunteer because it offered me a chance to volunteer in a rural part of Thailand, outside of the usual tourist route.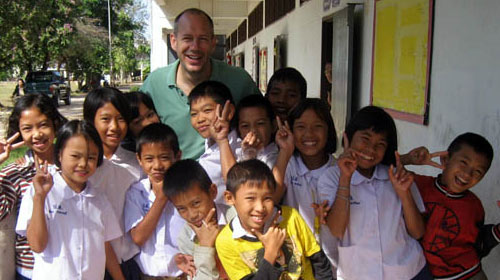 From the time I arrived in Udon Thani and was met by Jack and some of the other volunteers, I knew it was going to be a great experience. After arriving at the house, I was quickly shown the way around, introduced to Jack's lovely parents, shown my room, the Thai shower, not to mention the garden and the 'infamous' plumjack tree, followed by the first big meal prepared later that night. That meal was shared with several members of Jack's family, the Professor and his wife, music, song, and everyone gathered on the thatch mat for a full evening of revelry.
My primary reason for going to volunteer was to teach English and push myself to do something I had never tried before, but living with Jack and his family offered a chance to get to know the real Thailand as well. We lived in the village of Ban Thin Dung with only a few hundred inhabitants and several kilometers from the nearest town of Phon Phisai, population less than 9,000 inhabitants.
Most of the days were spent trying my hand at various English lessons without really knowing what I was doing. The children would start the morning with a call of 'Hello Teacher'. "Hello Students, How are you"."Fine Thank You and How are you".
The students had learned some prior English by reading and writing but often didn't know what all of it meant or were often embarrassed to practice in front of the 'farange' or foreigner.
With the right attitude, the children quickly embrace their teacher and make the experience rewarding with their constant enthusiasm and warmth. Together, we would practice introductions, sing songs and all clap at the job well done. They showered affection toward me and I couldn't help but be taken by them. Primarily, I spent my days at the Ban Bua and Pak Suey Schools assisted by Kassidad and Eiew. However, during this time, other schools would call Jack asking for assistance with lessons whenever free time presented itself upon hearing volunteers were about, and ultimately I assisted four different schools. I was amazed and impressed at the passion shown by the teachers currently there as many of them want to give, give, give to help these students learn more, while being so pressed for time and resources that any assistance from a foreign volunteer helper is so welcome.
The 'down time' was equally rewarding with jogs or bike rides through the villages and rice fields while hearing the calls of "Helllloooooo" and the occasional stops to join the girls or boys for a quick game of soccer or volleyball.
I was able to assist the farmers in harvesting the rice while being rewarded with a welcome into their homes for dinner or joining for the 'rat hunt and barbecue'.
For the nights where we were looking for something a bit quieter, a sunset cocktail on the banks of the Mekong would set the night up perfectly before the occasional karaoke to finish off the night.
The whole experience is something I won't soon forget. Almost everyone made an impression on me and the hospitality shown by Jack and his family was beyond expectations, not to mention the wonderful Thanksgiving meal prepared as well. I only wish that I had more time devoted to do more, but I will look forward to my return as soon as I am able.
My Trip Gallery