Every medical volunteer in Ghana calls this hospital home. But depending on the skills and interests you have, your time will be unique. If you've ever wondered what a day in the life of a medical worker is like in this friendly, colorful country, it's time to see for yourself:
Your First Day
You'll be assigned a volunteer department based on your interests and a hospital introduction meeting on your 1st day. You will have this meeting with the head of volunteer placements, who wants to talk with you in person to make sure they help you find the perfect placement––even though they've already seen your profile on paper. For example, if you have a strong interest in working in a labor unit, you'll meet with the head nurse or midwife to make sure it's the right place for you when you see it in person.
This day also serves as an orientation day. You'll get your uniform, learn where everything is, and meet some of the hospital's employees. Volunteers are advised to bring their own scrubs or lab coats, or you can get some made-to-measure for your time as a medical volunteer in Ghana.
The Daily Routine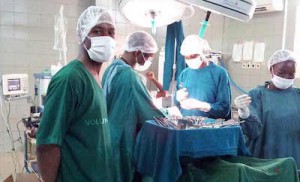 From your second day on, you'll go straight to your department every morning. This is where you'll get assignments and learn what experiences your day will hold. See what one of our volunteers, Austin, thought of his first few days on the job:
"My first placement was in the surgical ward. I started learning right way because the doctors explained the cases and treatment plan to me. I was let to draw blood and set up IV lines under the supervision of a doctor and with the permission of the patient. There were also a lecture series that I attended. Attending theater was the best part, as I was able to watch and ask question on the procedures being done. After the first week, I went to pediatrics ward; this ward was very challenging. The doctors and PAs had review sections that I sat in for, where they went over several diseases and their causes, along with how to diagnosis them. After sitting-in for most of these reviews, I was let to see patients one-on-one under a doctor's supervision. This felt like a crash course in medicine." Austin Ikechi, USA
Your shift started quite early, but you'll take a 1-hour lunch break around noon. You'll resume working again until the afternoon, around 3 p.m., but every day will have different tasks. Because you're a volunteer, you'll get to see and experience many different types of practicing medicine. For many of our past participants, it's this variation of duties that makes the work day so interesting:
"A typical day at the hospital starts at 8 a.m. by meeting with the other volunteers and making a plan for our physiotherapy team for the day. On some days, we do ward rounds with the doctors to find out how patients are doing. Other days, it's very hands-on in treating the patients in the wards and outpatient clinics." Kate Horan, Australia
Our best volunteers are the ones who really lean into their time here and make the most of the opportunity. While you're mainly there to learn how doctors and professionals in another country work, you'll also have the chance to contribute to special projects and areas that need attention.
"I wanted experience in what I wanted to do in the future, which is be a humanitarian doctor. I was doing both physiotherapy and pediatrics. I helped the doctors update their research on clinical exercise research. As a side project, I noticed they didn't have the equipment to deal with patients with spinal cord injuries––so I took it upon myself to convert an old exercise bike to a wheelchair-accessible bike, where arm pedals mobilized the legs."  - Hasan Hazme, Canada
After your work day, you have the rest of the night to relax in the dormitory or explore with friends. Most volunteers use the down time between work and dinner to use the dorm's internet connection and talk with family and friends online. Tell them all about your week and what you've learned so far!
Dinner is served between 5 and 6 p.m. Rice, plantains, sweet potatoes, spiced vegetables, and meat make hearty, filling meals––and the dorm's cooks are great at making these dishes delicious and authentic!
Your time after dinner is free for exercising, taking a walk, exploring the neighborhood, and getting to know the other volunteers in Ghana. You'll do some of your more adventurous traveling on weekend trips, like visiting other cities, beaches, and historical landmarks. Trips to Accra, Boti Falls, and Mole National Park will help you see more of Ghana while you're on the beautiful continent of Africa. And because the uVolunteer working schedule is a 4-day week, Monday through Thursday, you'll be able to see more in a longer weekend!
Takeaway
Depending on your personal interests in healthcare, your time as a medical volunteer in Ghana could take many paths. You can work in departments like labor and nursing, general medicine, pediatrics, physiotherapy, the laboratory, or even the surgical ward.
But regardless of your specific assignment, all volunteers enjoy a varied placement, which can be customized to your preferences. Come prepared to learn more about the healthcare system in Africa, and embrace your days while you're here!