Your time as a volunteer in Ghana is limited, so making plans for just a few getaways can be a daunting task. We've had a lot of volunteers return with incredible stories from their weekend adventures, but here we've only shared a few from our volunteers. We want you to have some of your own, too! We're going to share what our volunteers believe are the top 3 can't-miss Ghana bucket list experiences:
We won't go as far as saying it's the official backpacker's capital of Ghana, but it's pretty darn close! Located right on Kokrobite beach, it serves as the perfect weekend getaway for the free-spirited, budget-friendly expat or world-traveler. This funky, laid-back little subculture is the perfect place to meet foreigners from all over the world. And don't worry about not knowing what to do while you're there––whether you're looking for a relaxing sanctuary to lay by coconut trees and cuddle up with a book or an energetic haven with live music and great drinks, it's sure to be a great time for your entire stay.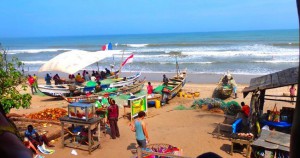 Source
One of our volunteers got the opportunity to volunteer at this national park. Michael spent all of his days there within mere feet of African wildlife. There are few places in this world where you wake up to a herd of elephants having breakfast by your house or a baboon knocking on your door (and yes, this actually happened to him)!
"I could never walk very far without seeing an antelope, warthog, or monkey nearby… One of my more memorable work days was when I was working on the computer in my office when a patas monkey walked right in and sat down." - Michael
While Michael volunteered in Mole National Park, you can still visit if you're staying primarily in another city in Ghana. In the 2 or 4 hours of a safari excursion at the park, you'll get to see elephants, antelope, warthogs, baboons, and other, smaller wildlife just meters away. Many visitors rave about the truly exhilarating experience to be so close to elephants. Since you'll be with an armed, professional, and well-experienced wildlife ranger, you'll be perfectly safe. And if you decide to stay overnight at the Park Motel as most visitors do, don't be startled if an elephant or baboon decides to be your dinner guest and come into your hotel surroundings.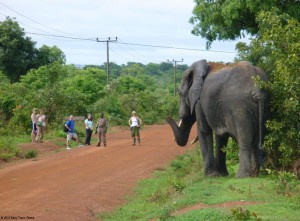 Source
3. Attend a Ghanaian funeral
This event is far from the type of funeral that occurs in other countries. From the open doors to the jubilant music and dancing, funerals here set themselves apart as one of the most amazing experiences you could have while volunteering here.
"On our second day, we were even able to attend a Ghanaian funeral, which immediately opened my eyes to the culture. Unlike the customs here in the U.S., the funeral was not treated as an occasion for mourning, but rather an opportunity to celebrate the deceased's life. It is a party filled with dancing and joy. At the funeral, I realized how friendly, warm-hearted, generous, and accepting everyone in Ghana was. They made us feel comfortable, and wanted us to engage in their culture. Frequently, people would walk up to us and say, "God bless you"––a statement that I can only imagine stemmed from them feeling that we had come to their country to help." - Elmira
Takeaway
We've only listed our top three suggestions, but there are tons of awesome things for you to do and places to visit while you volunteer in Ghana. Don't be afraid to do your own exploring and research for your own, customized bucket list. Whatever it is you decide to do, we're positive it'll be a riveting experience!