After 2 connections and 18 hours of travel time, Suri, a really friendly Tico, who I'd soon find out to be one of the kindest and friendliest people alive, greeted me at the airport. His English was limited and my Spanish was non-existent. I was starting to get really nervous about being in a foreign country where I didn't even speak the language. After waiting for another volunteer to arrive, we walked to a mid-sized van packed with 10 other volunteers. This was when my Costa Rican adventure began.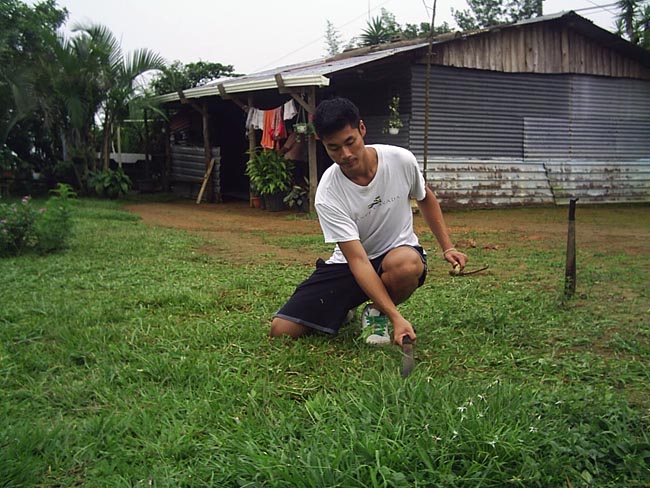 Three other volunteers and I were dropped off at an empty dorm in San Ramon, which would be home for the next 3 weeks. We quickly got to know each other and were greeted by Dona Isabel, our house mom. She is the most amazing cook and caring person. The first thing I asked her was if she spoke any English and she quickly replied, "nada!" It was time to break out the Spanish-English dictionary.
Over the weekend, the rest of the volunteers and an amazing crew of coordinators, who really were the most friendly, enthusiastic and caring people, greeted us. After getting to know everyone and hearing all their stories, I was ready to start my volunteer project the following morning.
After a hearty breakfast, Suri, who greeted me at the airport, picked me up at the dorm around 8am and took me to my project site for 9am. When we arrived at the construction site, there were no materials, no construction workers and just two grandparents, Eso and Juan Miguel and a mother and son, Maria and Andres, who didn't speak a word of English. Because there were no materials, Suri and I helped Juan Miguel cut the grass. Suri handed me a machete and I didn't know what to do with it. He signaled for me to get down on my knees and start hacking at the grass. It was definitely a really cool experience to use a massive knife to mow the lawn.
After a couple hours, Suri and I headed back to the dorm, but not before stopping in town for a drink. I told Suri that I was really nervous about volunteering because I didn't speak any Spanish. He assured me not to worry because I'm here doing a good thing and that heart is universal. I took his words to heart and from that moment on, I started to relax.
The next couple days at my project were spent digging trenches with Juan Miguel, a grandpa who was way more fit than I was. He did not take any breaks while I was there drenched in sweat and taking water breaks every few minutes. We were still waiting for construction materials for the next week, so I had a lot of down time with Juan Miguel and Eso. After about a week at the site, I was picking up a lot of Spanish and was able to have conversations with the couple. I was getting really excited and was practicing my Spanish any chance I got.
Because I only worked at my project in the mornings, I got to check out another project in the afternoons Community Education Project. This was the poorest community in San Ramon. I got to volunteer at an after school program in a church that taught kids to read and gave them a safe place to play. The kids and workers were great but called me names like, "Chino Panda", which I later learnt was the ultimate sign of endearment. I quickly came to love this project and came back almost every day after my construction project.
While volunteering at the afterschool program, a camera crew from Quebec filming a documentary about Canadian volunteers in Latin America happened to find me. They interviewed me and filmed me interacting with the kids. It was a great experience and was great to give life in a poor town some exposure.
After about a week of waiting, the materials finally arrived at the construction site. Although it was a lot of hard work, it was a lot of fun practicing Spanish and it was great knowing that I was helping to improve someone's life by helping to construct this house. On my last day of volunteering, we were able to put up all the walls around the perimeter of the house and the walls around the washroom. I was really proud to see the work I contributed to was going to really help a family.
The uVolunteer experience is not just about all volunteering. We were all given Fridays to Sundays off to enjoy the country.
My favourite weekend spent in Costa Rica was travelling to Bocas del Toro in Panama. Not that Costa Rica wasn't an amazing place, Bocas del Toro was just a lot of fun! Words can't describe how amazing my time in Bocas del Toro was. The town had a very colonial look to it, beautiful beaches and was filled with people from around the world and extremely friendly locals. It made leaving very difficult.
After completing my three weeks of volunteering in Costa Rica, I was able to accomplish so much. I learned a lot of Spanish, interacted with kids and was able to help improve a family's well-being. I feel like I wouldn't have gotten as much out of this experience if Suri didn't tell me, "heart is universal" on my first day of volunteering. Keeping an open mind and open heart really allowed me to experience life and being in Costa Rica and I loved every minute of it!
My Trip Gallery