I am just finishing my 2 months in Costa Rica, with the U Volunteer program. This experience really has been amazing for me! Costa Rica is an amazing country with many places to see and explore! From the beaches to the volcano's to the beautiful backpackers it has been a wonderful trip!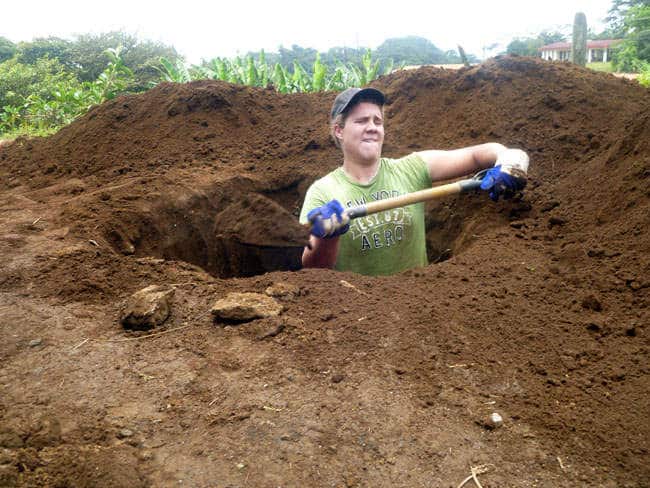 I started my volunteering in construction work; it was for 6 hours a day, 4 days a week. At the start I was doing a lot of digging and mixing of cement which was cool to see how they did everything by hand here, and two hands of help is a lot here!, As the two weeks of construction came to the end I was doing more noticeable jobs such as hammering the roof in, hammering through the brick wall for the electricity outlets (hard job haha) and many little jobs that were fun and different. It was really good to experience the construction in Costa Rica and an awesome feeling to know your helping someone in need! This is my biggest goal, to see I'm making a difference and know my time is appreciated!
On my third week I started working at San Miguel Elementary School. This is where I spend 6 weeks and had the most fun! At the school I taught english, cooked lunch every day for the kids, and of course played soccer (football). This was my highlight because I could really see, every day, with every job I was asked that I was really helping. They can't afford to hire people to do these jobs, but yet they are so simple and fun. I painted, I cleaned, I played, colored and much more and the kids were so happy every time I showed up in the morning, they all knew my name, greeted me and asked if I'm going to play football with them haha, it was an experience. The teachers and parent volunteer staff also really appreciated the work I did, in english class we would play games with the kids and the english teacher always said how I have to do that again with them because that's all they talk about and ask. It was what volunteering should be! Fun!
Of course this trip wouldn't be as good if I didn't go travelling! Every weekend I would get almost 2 full days of going to a beach or a tourist area to backpack and travel!
My highlight! It surprising how many people are travelling, volunteering and backpacking just like me! I met so many people (more than once) and seen many places! I travelled to La Fortuna, Manuel Antonio, Puerto Veijo, and other small places around Costa Rica and it really made my trip!
Thanks U Volunteer for the experience of a life time and something I wont ever forget (hence why I got my tattoo) "Pura Vida"- something Costa Ricans live by! It means directly to english "Pure Life", but here they say it to and for everything! Ask how its going? Pura Vida! Ask how your day is, weekend, sleep, anything almost and they say Pura Vida" Even one time I asked a local "what time is it" and luckily he spoke english, because he replied with Pura Vida, and said it doesn't matter man, Life is good, no worries. And that's why I got my tattoo. Something to remember my trip by, and it's like Hakuna Mattata. No worries, life is good!
Costa Rican people are so friendly and I really advise a trip here! Volunteering!
Good luck to whoever reads this and always remember "Pura Vida"!!
Adios! Gracias! Tiaan Anderson, Wainwright, Canada
My Trip Gallery