This summer, my friends and I wanted to do something different and at the same time, something that would give back. At first, we didn't really know what project to work on or even where to go. We researched many websites and found a few good ones, including uVolunteer. Through uVolunteer, we decided on the Turtle Conservation project in Costa Rica.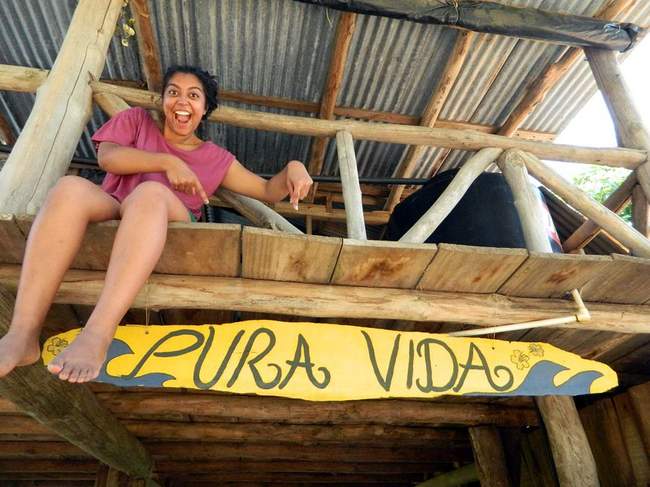 Upon arriving in San Jose, we were all a little bit nervous. The three of us has flown in together from Atlanta and it was our first time travelling alone, without school or family. I didn't really feel all the excited about the trip because I really didn't know what to expect. Once we had landed and got our bags, we tried to exchange some money into colones.
However, being under 18, we were not allowed, which was frustrating. A couple of people from uVolunteer picked us up (including Ligia, the coordinator) and we finally got to San Ramon after a few hours, where we stayed one night.
Early the next morning (around 5), we woke up and got ready to go to Samara, where our project was taking place. We had to take a bus, which got us to Samara in 5 hours. The drive was surprisingly pleasant as we saw a lot of Costa Rica's beautiful mountains on the way. When we got there, we were picked up by a taxi, that drove us up a dirt path and to a river. At the river, we were told we had to cross, taking our suitcases with us. We waited at the river for a while, where we were met by Roy, the project manager. He seemed a little angry at first that we had suitcases and not backpacks, but as he helped us carry our bags to the camp, he was very friendly.
When we got to the camp, the people were awesome; very friendly and welcoming. The beach in front of the camp was beautiful; the ocean was so blue and the scenery was just amazing. As we moved into the camp, I was very tired from carrying the suitcases. We were introduced to our room downstairs (as the upstairs dorm was full) and we settled in. The room itself was small and dark, but within a few days it felt homely. We were shown around the camp; the hatchery, the kitchen, the eating area, the bathroom, the shower, the compost pit, the campfire area, the clothes line, the bookshelf and the other dorm.
It was very well laid out and it seemed like the camp had been running very efficiently all this time. I was at first very nervous about not having running water and electricity, but it turned out just fine. There was really no need for electricity and it was actually quite nice not having it. Washing clothes by hand was fine, and the toilet felt just like a normal toilet. The water from the shower wasn't the cleanest, but it still felt like a normal shower to me.
We also met Veronica, the cook, who made us rice, beans and usually vegetables or eggs for our meals. Sometimes, we would have days with pancakes or pasta.
Being our first time working with turtles, we didn't really know what to do. Adrian, who had been working there for four years, told us about the turtles and the different jobs we would have to do. He explained everything that we had to right down. At this point, I felt really scared because I didn't understand much still. However, I later found out that it was simple and quite easy. We had to work usually four hours a day, unless we had other work to do. We had two hatchery shifts, each two hours long, one in the day and one at night, with one other person. My partner was Meredith, who had been there for five weeks already. I felt better with Meredith with me because she knew what she was doing and she also told me about her experience there and her life at home too. On days like Wednesday, we had to clean the camp and were assigned different jobs like cleaning the kitchen or raking.
On other days, we would have to collect fruit and vegetables from the river, either on the left or right side, which could be difficult when the things were heavy. On hatchery shifts, we would check if the turtles in the nests would hatch and if they did, we had to weigh and measure 10 and then release them into the ocean. On nights that we had to patrol, we would walk either with Jimmy, Roy, Aeneis, Adrian or Anni, and we would look for turtles that were going to lay eggs. Twice, I got to collect the eggs from under the turtles, which was such a cool experience. We then had to take down all the measurements, tag the turtle, and then make a nest for the eggs in the hatchery. By the end of the trip, I was able to make a nest by myself.
Also, Thursdays and Sundays were off and on those days, we got to go to town and use the internet, get ice cream and roam the streets of Samara. On one of the Thursdays, we got to go horse riding in the mountains and also down Playa Samara. On our way back, we went through the streets of Samara, and we even crossed the river to the camp on our horses, which was also very cool. Before we crossed, we met our friend Becky, who climbed onto the back of my horse and got a free ride! It was a little scary, but a lot of fun riding with two people. We then trotted to the camp, down Playa Buena Vista. It was a really fun and new experience.
On our days off, it was also nice to contact our families and let them now how we were doing.
Usually, we would walk back to camp, instead of taking a taxi. It was a really long walk, but the view on the way is beautiful. While at camp, we would sit around on the beach, swim, play cards and read. It was so cool meeting all the volunteers from different places, all with different stories. After every meal, we would play a card game called Dishes, in which the loser would wash all the dishes. I lost once and it was horrible cleaning all those dishes! Anyway, in our free time, we also asked Roy to teach us how to make bracelets. He taught us a very easy kind and it was a lot of fun. Spending time with Roy was nice because we would eat cookies and joke about other people. Once, his little son (Joey) came to camp and taught us how to make bracelets as well!
Working with the turtles was amazing as we learnt so many new things about the different types and what to do in different situations. I hope our working there helped the organization with their goal in the conservation of turtles. Overall, it was a great experience working with the turtles and meeting all the different people. I wish we stayed there longer, but who knows – we might go back one day!
My Trip Gallery