After orientation days we took a bus west to Cape Coast. Cape Coast is a coastal city known for its slave castle. Also neighboring Cape Coast is the town of Elmina, where there is another slave castle. From there we took a cab to a house in Abrafo, a village near Kakum National Park where we stayed for the two weeks. This house was always very lively. There were two people living in the house: one was an assistant park manager and the other was a park tour guide. However, there were always people coming in and out so it always felt as if there were more residents. Also the house was always kept in pristine condition. Even though it took me a few days to get used to the food, I thoroughly enjoyed eating their local home-cooked meals as well.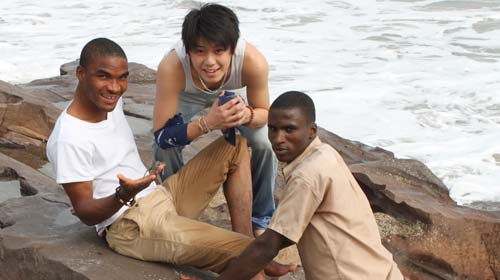 My personal favorite was foofoo and light soup.
We spent the first few days getting oriented and introduced to the park staff and familiarizing ourselves with the park itself. Some of the activities we took part in were cleaning up parts of the park, gardening and giving suggestions on how to improve aspects of the park. We were also fortunate enough to tag along on an anti-poaching patrol through the jungle, which was definitely exciting.
During our off days, we visited Cape Coast and Elmina where we explored their ports, markets and slave castles. Also be sure to stop by the Monkey Sanctuary. This is a place independent from the national park that rescues injured, endangered animals and rehabilitates them. It is run by a Dutch couple who were very interesting to chat with as well.
What touched me the most were the people and their hospitality, generosity and openness.
I would recommend volunteering in Kakum National Park if you are interested in nature, deep immersion into Ghanaian culture, meeting amazing people, and making friends that you will never forget.
3 tips:
Learn to ignore street venders and hawkers. (Harder said than done especially when some of them are kids)
Remedy for stomachaches
Go with an open mind.
My Trip Gallery