For me, this trip was something I always said I was going to do "one day". So as a gift for myself on my 30th birthday, I decided "one day" had finally arrived. After extensive online research, I decided that the Construction Project in Costa Rica with uVolunteer had everything I was looking for. Since I had never travelled to Central America before and also have a very structured routine of shift work back in Canada, I knew adapting to the Tico lifestyle was going to be a challenge.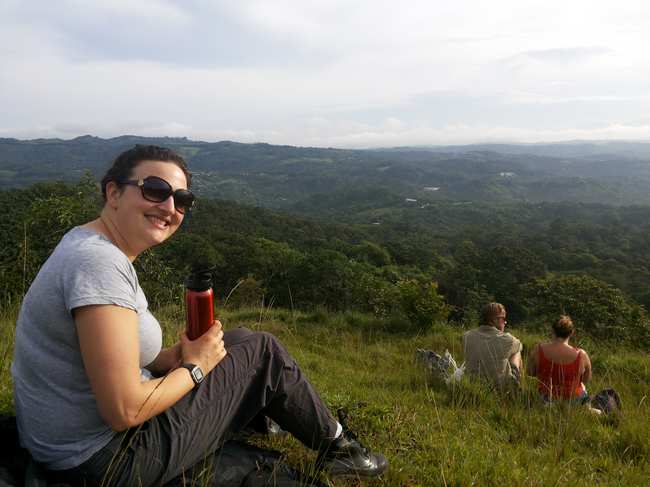 Upon my arrival in Costa Rica I was greeted at the airport by Nohelia, one of the uVolunteer staffers. In true Tica fashion, Nohelia greeted me excitedly with a big hug as if we were already old friends, and treated me that way for the duration of my stay. As I had chosen to travel during a very low season, my original choice of staying at the uVolunteer Dorm was not an option and I was instead placed in a home stay (a first, I am told). Although I was a little thrown by the change of plans, I decided to embrace the laid back attitude of my new home and accept the circumstance as a new opportunity. I am certainly glad I did. I was placed in the home of Dona Isabel, the dorm house mother, who has been housing volunteers for many years.
Dona Isabel was very kind and welcoming, as were the many family members I met during my month long stay. She was also extremely patient with my (very poor) Spanish and always respectful of my personal space.
The Construction Project was very labour intensive, but also very rewarding. There were no power tools on site and daily jobs usually consisted of painting, digging, hauling raw materials and mixing cement. Although some days were exhausting, it is definitely within the scope of nearly anyone's physical abilities. The local workers on site are very kind and grateful for any help you are able to give. It was amazing to watch our little house grow before our very eyes! Ligia, my program co-ordinator, worked very closely with me while I was in Costa Rica. She would usually come one day a week to my work location to take pictures and help out with building. During our weekly meeting, she would always inquire about my project, my housing and how I was getting along with other volunteers. Also she would help me set up any travel plans I had for the weekend; suggesting accommodations, calling tour companies and often getting me a better price on excursions. The amount of help Ligia will extend to you is limited only by what you will ask of her. It was with this help that I was able to fill this adventure with lifelong memories.
Overall, this trip ended up looking completely different then my overly rigid personality tried to make it.
Ultimately, it was exactly what I needed it to be and I can not imagine having done anything differently. And though Ticos are a notoriously kind people, Ligia, Nohelia and Dona Isabel still manage to stand out among them. I truly felt like a member of a family while I was here and I will miss this beautiful country and its beautiful people.
Pura Vida!
My Trip Gallery