Jack's mom was particularly kind in helping me get settled. Over the next several days I began meeting Jack's extended family. In particular I enjoyed the dinners at Jack's grandfather's home. I joined the 10 other family members sitting cross legged on thatch mats surrounding deliciously prepared Isan food. Soon I got used to the slower pace of the Isan region and enjoyed feeling like part of an extended family.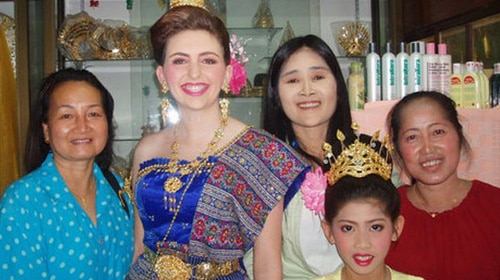 The local activities I participated in varied from visiting temples on holy days, sightseeing around the region, and even participating in a Thai beauty pageant! Talk about memorable. I gained many memories from these experiences, not to mention I took home an album full of pictures.
I also spent considerable time interacting with students at the local high school. I joined the class of Yuphaporn/Pritipatagon to team teach and help students practice their English.
We worked together to get kids interested in English and improve their speaking ability.
Volunteer in Thailand gave me an insightful look into local Thailand as well as giving me the opportunity to give something back. Joining this program was one of the best decisions I made."
My Trip Gallery