Going to Africa to help people in need was always a dream of mine, especially for the past three years.
I am a 23 year old woman from Northern California, so Africa was a little far. I considered many different volunteer organizations
but they were all very over priced and their curriculum didn't seem like it fit my personality. My best friend, Elli, found uVolunteer and as soon as she sent me the link we both decided this was it. We were debating on Ghana and Kenya but the Ghana program at the orphanage seemed like the best fit for what we were looking to do.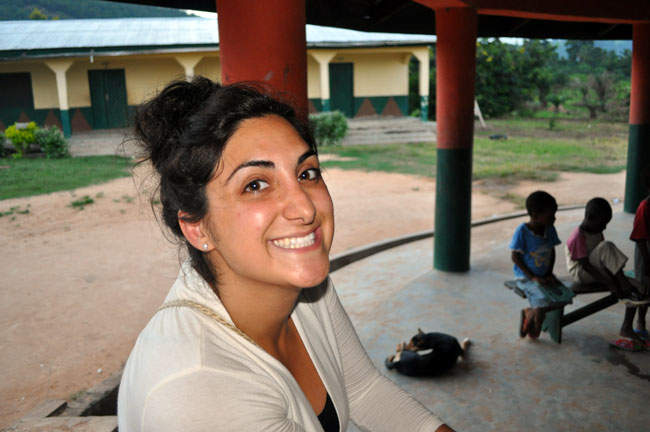 Once we got to Ghana we were welcomed by one of the coordinators, Annette. She was very kind and told us all about Ghana on our drive to Koforidua (Eastern Region). She was very helpful and comforting. Once we got to the uVolunteer house we were so relieved to find how clean and comfortable our room/ house was, which was something we were a little worried about.
Fred and Annette gave us a rundown orientation on everything to expect from the people, culture, environment, work program, etc. It REALLY helped us understand and more so, adapt to our environment.
The first day starting our program at the orphanage was overwhelming, seeing all the beautiful, loving, kind children was hard to grasp their living conditions. I started teaching 4th and 5th grade Math and English. I genuinely enjoyed teaching my students, they were so smart and focused, and there was no great or more rewarding feeling that the connection I felt with them and all the things I taught them. I got really close to the children at the orphanage, they helped me find a deeper understanding of the people in Ghana and how kind and selfless they really are.
We didn't have much time to travel because Elli and I were running around trying to find other causes to contribute to, but we did make it out to the Boti Falls which was probably one of the most beautiful sights I have ever seen. There are so many gorgeous places to visit in Ghana but our stay was too short since we only had two weeks off from work. Fred was very helpful; he was always there for the volunteers and did everything in his power to make sure we were comfortable and on top of our projects. The trip would not have been the same without him.
Overall, I had a life changing experience, from the people, the country, the nature, the kids, and most of all the culture. I highly recommended for all my friends to go through uVolunteer's organization if they do choose to travel abroad.
Thank you uVolunteer! You helped change my life and open my eyes to the beauty and humility in other parts of the world.
My Trip Gallery