So, I didn't really know what to expect when coming to Costa Rica; however, I did have a little bit of an idea because I have lived abroad in Latin America, and I was excited to visit another country and practice my Spanish. I was really appreciative of how uVolunteer was so accommodating to us when we were trying to make everything work so we could come during winter break on such short notice. As soon as we arrived I felt comfortable and excited about this experience. It was so great to meet the volunteer coordinator.  The orientation with in San Ramon was excellent, and it was so great to be shown around San Ramon, and to get last minute things before heading to Camaronal. The transition from the United States to Camaronal went so smoothly, and we were so lucky to be able to have traveled with the volunteer coordinator, the first few nights at the station were really fun and hectic, even though there were so many volunteers, it didn't feel overwhelming at all.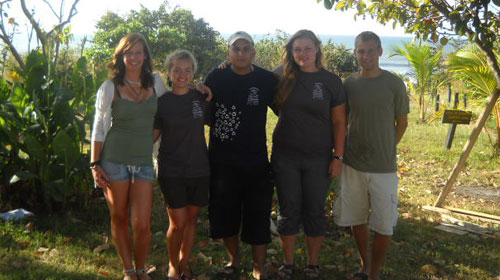 It was great to be able to have gone out on the first night as soon as we arrived on the beach, and to be so lucky to see turtles, babies, and a leatherback within the first couple days, it was amazing.
I learned so much about Turtles and their predicament while being in Camaronal. Even though my majors are not science related, I have always loved science, and for me to combine using foreign languages and seeing the relationship of the station to the surrounding communities and to the turtles themselves was very interesting. I thought that for such a young refuge, it has already come so far in trying to educate the population about the situation, and to try and enforce and demonstrate the benefits of tourism over poaching. For me it was important to see this relationship, and to see how the local population is also involved, not just foreign volunteers.
The living situation was very comfortable, I was lucky to have my own room, but it was also great to have the option of just sleeping outside , the bugs and insects weren't really a problem, it was easy to get used to after a couple days, and the food was great.
Jacky the cook was always very open and great to talk with, as well as learning how to cook food. Also because the staff at the station don't speak a lot of English, it was great to be able to practice and maintain my level of Spanish while being there, for me that was probably the most important thing. I expanded my vocabulary and was able to practice translating for those that did not speak English or Spanish well. I even was able to help out teaching some English to the local guides who would give tours on the beach, and would need to know key phrases and facts in English to tell the tourists.
The three weeks went by so rapidly, I was so sad to leave Camaronal, and I plan to return in the future because of the strong ties and friendships that I made there, I feel like I truly made a difference there, not just by patrolling at night and relocating eggs, but also by educating people and helping by spreading the word, by talking to people like volunteers or tourists, or even members of the nearby community. On our free time during the day we would help do beach cleanup or patch up the hatchery, otherwise our only obligation was the patrols at night, that would last from 3 to 4 hours. The beach is beautiful at night, a completely different environment than during the day. I feel that even though the information and skills that I learned at Camaronal were so specific, I will carry them on for the rest of my life. I feel so grateful for this wonderful experience, and because of this project, Costa Rica will always have a special place in my heart.
My Trip Gallery