The accommodation was set up as a share house situation. This suited me fine as it gave me a lot of freedom to do my own thing.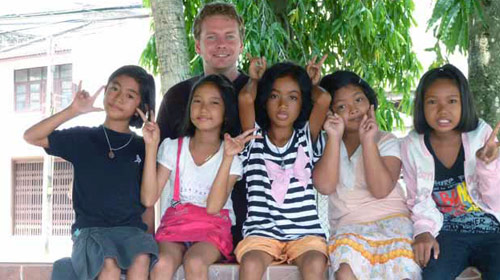 I really like the town of Trat. It is large enough that you can buy pretty much anything you need, but small enough that it feels like a community. It is very clean and easy to get around on a bicycle. I found the Thai people to be very friendly and welcoming. To me it felt like a place to live and call home, not just a place to visit. Some people may find the pace a little slow here, but for me it suited me fine. I always found something to do. From riding my bicycle down around the lake to drinking in local bars or dancing in the night club, spending a day relaxing on a beach or heading to the nearby islands.
I was very nervous about starting at Tha Rue Jang school, but the teachers were very friendly and welcomed me almost as family. The children's English skills were very limited but over the course of my stay we found many ways to communicate without language. I was teaching computer studies, but I hope I also helped with their English and confidence speaking English. Occasionally I found things challenging or difficult to deal with. But there wasn't anything that I could not work through with the help of the teachers, and the support of Meaw.
I am going to miss the children of this school so much. Everywhere I walked in the school I was met by calls of "Hello Teacher" and grinning smiling faces.
In my heart I will always have the name Kru Lahn. I am not sure how much I was able to teach the kids in my five months, but I hope I was able to keep some of them from falling behind and inspire others to continue studying computers. Also I hope I was able to reduce the workload of the ever hard working Kru Pook.
Volunteering in Thailand was an experience beyond anything I could have hoped for when I signed up for this project.
It gave me the opportunity to meet some wonderful people and make great friendships. To be able to become part of a community and learn about the culture and how life is lived in this part of the world was such a privilege. I know that I could not achieve this as traveller and it was exactly what I was looking for when I decided to volunteer. My one piece of advice to future volunteers is, don't buy your return ticket first. You may find that it is very hard to leave this place.
My Trip Gallery