Living in a house of strangers can seem challenging, which it is, but it was 20 times more rewarding (that's the part they don't always show on MTV's the Real World!) There was never a dull moment in the house. There were always people to travel with or talk to, or to share my experiences with. I learned something from each and every housemate I had this summer. Dona Isabel is another blessing in the house. She was always there for me not only to cook and clean, but also to talk to and to get advice, support, or even to help me with small things as simple as finding out where to go for a manicure.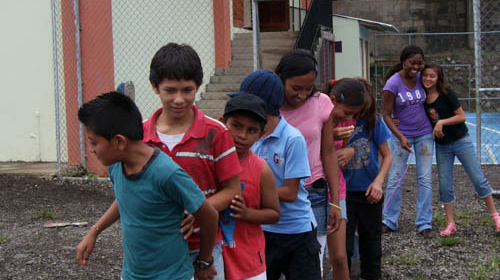 For my project, I chose to teach English, because I wanted to gain experience in the education field, as well as practice using my Spanish, and kids always tell you when you are wrong! My only concern was that I would not make a real difference like the people working in orphanages and construction, but I found out that I was extremely wrong. Working with the English teacher at my school, I felt like I was making a huge difference in the lives of the students, not only in terms of speaking English, but also as a friend to the teacher and the students. To be honest, I was never the biggest fan of children, but my mind completely changed by the time I left (in just 5 simple weeks!). I learned that kids have so much to offer in terms of love, honesty, and knowledge that is impossible to find in adults. I surely will not forget them.
Another part of my trip that was a little bit different then most was my experience during the holiday. There were two weeks where the students did not have school in which one week I volunteered in a different location, and the second week I went on the yearly group trip. The week where I volunteered in a different location was the best week of my life! I worked in an afterschool care program in a poverty-stricken area. I spent my days helping students learn how to read, solving math problems, pushing them on swings, and just showing them that people do care and love them.
I enjoyed the project so much, that I continued working there after the vacation, after my hours at my regular project. I am already trying to find time to go back and visit.
From the moment I stepped out of the airport and was greeted by one of the uVolunteer coordinators and three other volunteers, I knew things would be okay, but I had no idea that they would be absolutely phenomenal. I met amazing people (roommates and staff), and now have several friendships I am sure will last a lifetime. I made a difference in two different communities, I traveled through an entire country and back, and I had a great time every step of the way. As cliche as it sounds, my life will never be the same! I would do it all over again in a heartbeat, without a single, solitary regret!
My Trip Gallery