Before I started my project at the zoo I spent a couple days in San Ramon, so when I left to go to the zoo I had to take busses from San Ramon. To get there I had to take a bus from San Ramon to Naranjo and then from Naranjo to Ciudad Quesada. Fio was with me for the first two busses which was really helpful and made me feel comfortable. When I got to Ciudad Quesada I was alone and asked people at the bus station what bus I had to take to get to the zoo. The people were all very friendly and showed me which bus to take and told the bus driver where I was heading.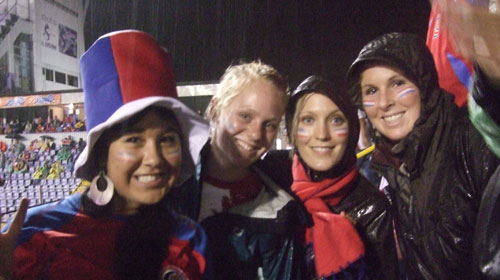 I got to the zoo on a Sunday at 2 pm. Right when I got there the people working at the information and entrance center said hello and told me to sit down and wait. It was a little difficult because they didn't speak any English but they were welcoming and I understood that I needed to wait. After about a half an hour some people came and brought me to my host family. At first I was very confused about my project and how I was supposed to get to and from the zoo every day. Things were very unclear but mostly just because I don't speak that much Spanish and had trouble communicating about what I needed to know.
To get to and from the zoo I had to take a bus. My host family lived on the road and a bus stop was directly in front of the house. It made it really convenient for me! I took the bus pretty much every day during the two weeks I was there. The bus ride was only about 5 minutes and I would always ask the bus driver to stop at the zoo so I could get off right in front and only have to cross the street to be at the zoo entrance.
My schedule at the zoo was Monday through Friday, 8am to 3pm.
My first couple of days at the zoo I was completely confused about what my project entailed. Nobody told me what was going on, they just showed me to where the workers were and I just followed them around and did whatever work they told me. My third day at the zoo the owner brought me and another volunteer to explain everything. Once he talked to me I felt a lot more comfortable and was really inspired by the zoo that he was running. It is a zoo but all of the animals that live at the zoo are there because they aren't capable of living in the wild or taking care of themselves. Some of them are brought in by people that have found them wandering around. The zoo does the best they can to take care of all the animals. They try to work with ones that may have a chance to return to the wild and the ones that won't be able to they just provide a home for them. The difficult thing for the zoo is that they don't receive any outside funding. The only money that they get is from the entrance fee of the zoo. This doesn't bring in enough money that is needed to take care of all the animals and then also work with the ones that they want to try to release. The owners hope is to make a huge rehabilitation center with a lot of acres of forest where they can observe the animals in their natural habitat, but making such a center costs a lot of money that isn't available. His house is in the middle of the zoo and there are animals all around it. The zoo has been in his family and was passed down to him. I haven't met many people that are so devoted to a cause and it is truly inspiring to see.
They love having volunteers because there are only about 6 men that they have working for them. The difficult thing about working at the zoo as a volunteer was that they haven't had them for a very long time and didn't have the best system on how to work with them. That's something that they are working on and they are hoping to hire a girl named Sadie that currently volunteers there regularly but speaks English and would be able to let the volunteers know who to work with everyday and just make them feel more comfortable. Sadie was very helpful during my time that was there and she loves talking to volunteers and working on her English.
The work that I did at the zoo varied every day. The men that worked there all had different roles and work with different animals.
There are different kinds of mammals and reptiles at the zoo. I worked with the big cats, monkeys and birds the most. I would scrub their cages and give them fresh water and food. For the most part I didn't work directly with the animals. A majority of the time I would scrub the sidewalks, rake leaves and other jobs like that. It was different than I was expecting because I had hoped to be more involved with the animals. But at the same time I knew that I was doing whatever they needed help with. And even though I didn't feel like I was making a contribution, I know that they were so grateful to have the help. The men at the zoo were friendly and always tried making conversation with me. They were laid back and we had a break for coffee at 9 am everyday and then a lunch break at 12pm. It was so nice to have those breaks and made the time actually working go a lot faster!
There were other volunteers at the zoo with me but they were all from different volunteer organizations. It was fun to meet other volunteers and we would hang out after work and I traveled with one of the volunteers to La Fortuna one weekend also.
Having a host family was such a good experience for me! I really don't speak much Spanish at all and my host family didn't speak any English. At times it was very difficult because I would want to say things but didn't know how to explain it. For the most part I would at least understand what they were saying or be able to get my point across. They were more than accommodating to me and made me feel extremely at home. I was definitely never hungry. I loved getting to see how they lived and telling them about my life back in America. Staying with a host family was so rewarding and I hope to do it again someday but I know that if I ever did I would come a lot more prepared with my Spanish.
Altogether I spent a total of two weeks working at the zoo. It was completely different then I had expected before going but something that was well worth it in the end. I think that more than two weeks would have been difficult for me. I felt like I was there a lot longer than two weeks and was ready to move on by the end. It was something that I would recommend to other volunteers but make sure that they know that it isn't working directly with animals and that there are only one or two people that speak a little English there so coming with some Spanish is extremely helpful. Although volunteers will be fine if they don't speak Spanish, I didn't speak much and was still able to figure out what I was doing. I loved meeting the people that work there and that they were so nice and open to me. I'm very glad that I chose to work at the zoo, especially because you get to see so many animals!!
My Trip Gallery