uVolunteer was the most flexible and least expensive volunteering option that I could find. I chose Thailand because I wanted to experience a non-Abrahamic religion (Buddhism), as well as liking monkeys and gibbons which the country has a tremendous amount of. The uVolunteer program manager, Meaw, turned out to be extremely friendly, although many of her plans tended to clash with rain storms :-), she however helped me out and taught me about Thai culture more than I could ever ask for.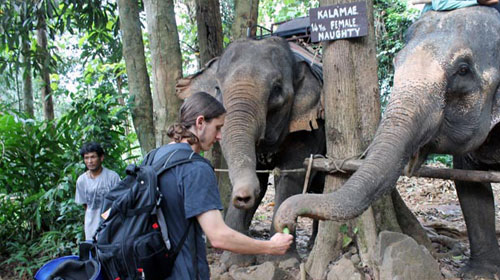 Overall, my experience was interesting to say the least.
Interacting with the children on a daily basis was something that I woke up every morning and looked forward to. They were very respectful and seemed to enjoy being taught. I was treated almost like a celebrity in the schools, both primary and secondary, which was one of the few times in my life in which I felt like I was important to someone other than myself.
The teachers took me in as almost like a family member, and especially enjoyed watching me eat the spiciness that is Thai food. I never ate Thai food much back home in America, but now it is my favorite genre of food. The children knew a lot less English than I had envisioned, so I had to come up with new ways to explain certain aspects of the language.
My only point that i would have changed about the program is that I was not given any idea of what to teach the children. I had no idea what they already knew, or what their actual English teachers wanted me to go over. In this respect, I had too much freedom.
uVolunteer also allows for it's volunteers to travel on their long 3 day weekends. This allowed me to see different places within Thailand, as well as nearby Cambodia. I went to a variety of places including Koh Chang, Angkor Wat, Pattaya, Khoa Yai National Park, Phimai, and Koh Si Chang. For the most part transportation was simple, but was difficult on a few occasions.
I would recommend the uVolunteer teaching English program to anyone who wants to fully immerse themselves into a new culture. After 5 weeks of teaching, I have only begun to understand the way of life in Trat, Thailand. By doing so, I have learned more about myself and my own American culture.
My Trip Gallery