I woke up in the morning to a hot breakfast and friendly smile from Don Rosa. After that it was a five minute walk to the bust and than a quick fifteen minute bus ride up to the zoo. The zoo was a fantastic palce full of great animals and great people. It was great every morning we would prepare the food for all the animals from birds to monkeys. But before all that we had to clean the cages and make sure that the feeders were clean as well. They work was fun but it was hard at times, especially when it was hot and we had to clean the choncho cages, then it got kind of smelly. I spent my time cleaning and feeding the macaws, parakeets and chonchos (wild Pigs).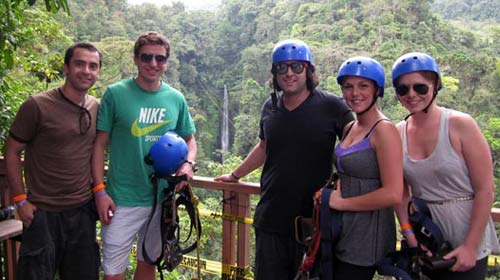 The staff Marina were wonderful and made sure that we were safe and comfortable at all times. They were by far some of the friendliest people that i have met and took wonderful care of us. They liked to joke around and are very talkative and made me feel right at home, even if you don't speak much spanish.
Now well the zoo staff were great the host family was literally like family. Don Rosa, welcomed me into here home as though as I was a long last child and made sure that I was comfortable.
The whole family was great we would play cards and talk lots. Even though I don't know much spanish we still managed to communicate well and worked through whatever came up.
The staff at uVolunteer were great and were with me every step of the way. Any questions that i had they promplty answered and kept in contact with me all through my trip prep. Once I arrived they picked me up from my hotel in Alajula, and took me to the dormitories in San Ramon. After that they showed me around town and made sure that I was comfortable and confident in San Ramon and in getting around the country, they even made sure that i had made it to my host family's house safely.
My overall experince with uVolunteer was wonderful!
They were very helpful and made sure that I was comfortable and safe at all times. Along with the staff at the zoo and the host family I felt completly welcomed into there lives and can honeslty say that it has been a great experince.
My Trip Gallery