After having quite an eventful year filled with some good moments and some bad ones, I had decided I wanted to do something for me so I started planning a 3 week volunteer holiday in September 2011. I decided that I needed to do something worthwhile and this seemed like the perfect idea. I wanted to do something with my skills and although English is my second language and I know it just as good as I know Maltese, I decided that making use of my computer knowledge would be a better choice for me. After choosing the organisation, next was the choice for the country location of the program and with the uVolunteer's representative's guidance I chose Thailand. I do not regret that decision one bit.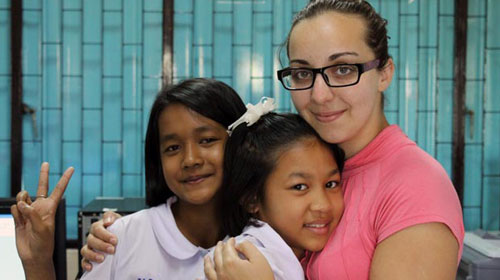 After choosing my dates and booking my place in the program I asked uVolunteer if any other volunteers would be joining me in my time there and I was told that only one was booked but that could easily increase as late bookings were quite common – which it eventually did as we ended being 4 volunteers with different backgrounds and each with our own stories but all here for the same reason. I was given the contact information of the other volunteer who had booked the same dates as I, Nick. We started emailing each other and we eventually planned 2 weekend trips: one to Pattaya and one to Siem Reap, Cambodia. We also planned a day trip to Koh Chang for the weekend of my arrival. We decided on the places of interest to visit and even booked our accommodation. After a lot of emails and a few Skype calls everything was prepared program wise and holiday wise. As the days went by I couldn't wait to get to Thailand. Now that my trip is almost over I cannot believe how fast it went by.
The day trip and weekend trips where all amazing and we did everything that was planned and more. Pattaya was unique and Cambodia was a once in a lifetime experience, I mean it cannot get much better than seeing the sunrise at Angkor Wat at 6am.
The teaching went by smoothly, I had 2 teachers helping me out with the language barrier and they usually told the kids what to do and I made sure the students knew how and helped them out if they didn't. One of the teachers spoke fluent English which was very helpful. The students of different ages were all equally adorable some of them where so affectionate they almost brought me to tears a couple of times. From the first day I received so many hugs from the kids, and every time they see us they wave and smile like they have just seen someone important which is very touching especially since we are foreigners. The teachers were all equally as nice and helpful. Even though not all spoke English we still managed to somewhat communicate. They always made sure we were hydrated and well fed always asking us if we were ok. On one Thursday I had a fever and although I tried to not let it effect my classes the teachers immediately noticed and started to care after me, telling me to sit down, and asking me if I was ok every 10mins which I found was nice of them.
I'm in my last few days and although I am looking forward to going home, but deep down I wish I could stay longer. I will definitely cherish my experience here for all my life – I have even kept a travel journal that details every single experience I have been through here, as I am so adamant to never forget this experience even though I don't think that is humanly possible.