Wow! Where to start?? What an amazing week in San Ramon, Costa Rica. When my family and I arrived at the "casa de los gringos" we were welcomed by Ligia, Dona Isabel and many other volunteers -who at the time seemed very intimidating but we ended up being best friends! At first I was very nervous to be staying in a dorm with other volunteers from all over America, but it didn't take long to adapt. Dona Isabel's cooking was amazing, and I loved hanging out on the hammocks in the back. Having the weekend to adjust to San Ramon was great, it gave my family and I a rest from the previous half of our trip which we spent in Monteverde, Volcano Arenal, and at Playa Hermosa. Ligia gave us a tour around San Ramon which was so beneficial for getting around later.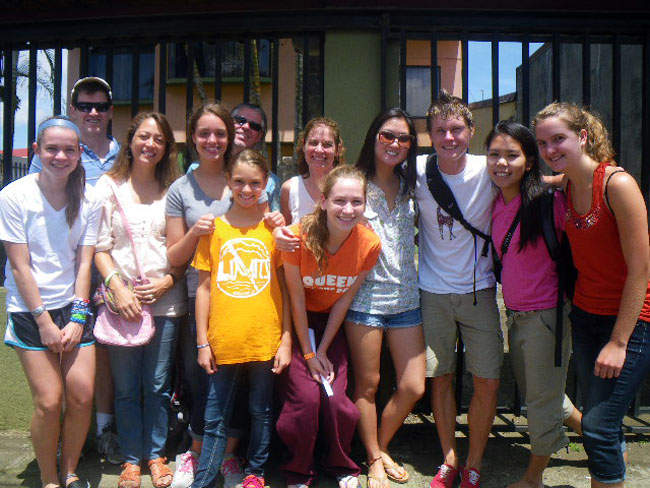 The city itself not being a tourist destination, was fascinating, looking at the Church and all the shops was really neat.
On the first day at the community center, we were lead on a tour around Bajo Tejares. To but it plainly, it was shocking to see some of the living conditions these kids were faced with. You would never think by the way they act at the center, most of them are very friendly and patient with your Spanish, that their home lives weren't always healthy. In the afternoon we were basically sent off around the community center and told to find something to do. This lack of structure confused me at first, but Ligia had explained that the most important thing volunteers could do for the kids was to give them attention. She had stressed and continued to reiterate the fact that a connection with one or two kids was more beneficial than organizing a huge group activity or game. I think what hindered me at first was my Spanish ability, so I used friendship bracelet string to attract the attention of kids so they could warm up to me. On my first afternoon I met a few girls that were my age and they were so sweet to me, and very patient with my Spanish. It helped me gain confidence talking to them, and made me realize what kind of vocab I would need to interract with all the kids at the center. Looking back, on the days following I wish I was braver and initiated more conversations with some of the shyer kids.
Overall, the rhythm at the center takes a little getting used to, but playing with the kids is really fun.
At first I was annoyed that I was with my family because I felt awkward at the dorm, but it was so worth it to have a piece of home with me and I never felt alone. The week I was there another family was also signed up for the same project and hanging out with them was so much fun and I made really great friends. My advice to future volunteers is to stay for longer than a week because I think the people who stay for longer get even more out of the experience. Definitely practice practice practice your Spanish before coming, the more you know the more you will get out of the experience!! Thanks so much to all the uVolunteer coordinators for making my week amazing : )
Much love,
My Trip Gallery