Despite the amount of poverty here, I can say with confidence that Ghanians are the most genuinely nice people I have ever been around in my life. I almost wanted to ask the first few people I spoke to what they wanted because they acted like a salesman, but they were just truly being friendly. After going to the crazy market, experiencing the upbeat style of church, and eating some Ghaninan food it was time for me to start my project.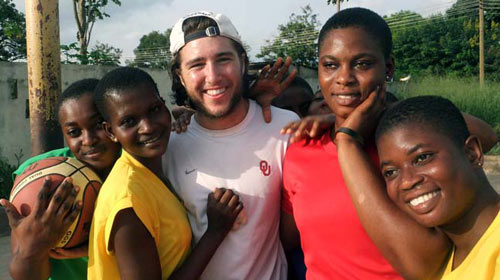 My project involved teaching 15-18 year old girls how to play basketball. The game of basketball is rare in Ghana, and most do not have access to a court or ball. The first day I started teaching the girls I thought I was starting from the basics, but I did not realize they had never even seen a basketball before. Names such as Michael Jordan and Magic Johnson were completely foreign and the concept of dribbling had not previously been taught.
My goal was to keep it fun. As soon as the girls started to show any signs of being bored, I just let them play even if it meant breaking a few rules. The first week was very entertaining and I enjoyed watching the girls' progress in their knowledge and ability of the game. In order to help my teaching process, I taught the girls in a classroom setting in the mornings to help explain how to play the game and show them a few skills. In the afternoon we would walk about 15 minutes away to play at a local court. I had a lot of fun teaching the girls and made some good friends along the way.
Outside of teaching at the local school, I got to know a lot of people in Ghana. uVolunteer got me plugged into the community with some great people and I was able to branch out from there.
The hearts of Ghanians are genuine and everybody wanted to know my story. uVolunteer did a great job making sure I experienced the culture here and setting me up with people to take me around town. I got to go to a local church, experience the food market, walk around the clothes market, eat all kinds of Ghanian food, go to local night life spots, experience the national park, walk with elephants, see monkeys steal people's breakfast, wash clothes by hand, and be chased by 50 Ghanian kids hoping to take a basketball from me.
Every day on the way to class I would walk by the kids school and hear the word 'obrony' (white man!) about 50 times.
At first I did not know what to do, but all I had to do was smile and wave as if I was some sort of celebrity. The kids' faces light up and some just want wave at you. The little things added up in Ghana and they were always a result of someone wanting to help in one way or another, and that is what I will remember about my experience, the people.
I would recommend the uVolunteer program to anybody and suggest you join because it will be one of the most important experiences you will ever encounter. Be thankful for your current life, but know that you can never be truly thankful unless you live in a poor town.
My Trip Gallery