The paperwork to get here was not difficult. Ligia and Alicia helped me through the process. Very quickly, I was all prepared to come. July arrived and I packed my bags. I arrived on a delayed flight. I was afraid that no one would have waited for me, but there was Johnny waiting patiently. He helped me get my luggage and we set off for San Ramon. Everything regarding my arrival and travel was wonderful y simple.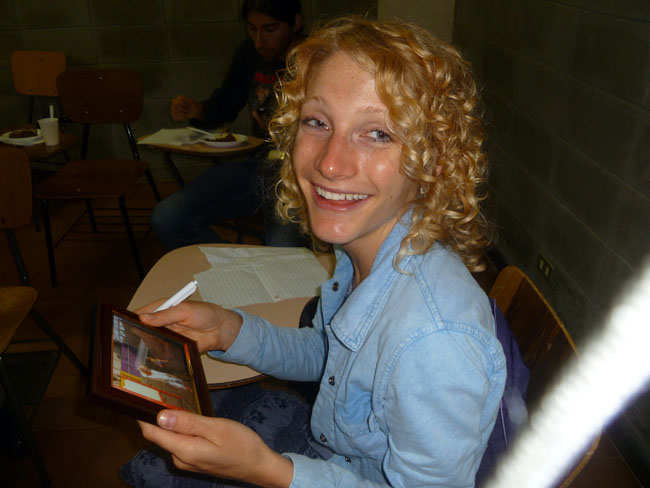 The following day Ligia took all the newbies on a city tour which was very valuable. I learned a little about the history and culture of San Ramon.
The following Monday we went to Community Education Project. The people are so kind and welcoming. They made me feel like part of their families. The children just love to play and have such a sense of fun. But they also want to learn too. They are truly dedicated to their studies, most of the time.
I have learned so much from the people here. So many things that I pray I never forget.
Dona Isabel has been an angel. She and I have passed the early mornings conversing, and I have learned so very much from her. She is so patient and kind with such faith and strength. She is a model for living that I will strive to follow always. Everyone here has taught me so much. I came here to teach but am leaving having learned more than I ever hoped I would. The most important lesson, I think, is that needs to be the basis of every action and every word I speak and do each day. Other very important things I've learned are that keeping life simple is essential. All we really need is the love of God and our families. Stress is nothing but a waste. Materialism is a sham, and vanity has no place in the well lived life. Love is what overcomes all things and is the most important part of each moment. Dona Isabel has helped me so much in this realization.
I want to share with you something a bit personal. I have battled an eating disorder since I was 14. I have been to treatment and am now stable and following a meal plan given by my doctor. Coming to Costa Rica was a big step for me. I have a lot of fears about foods and eating. But Dona Isabel has been so patient with me. She lets me use her kitchen to prepare my meals and has accepted me without judgment. She really wants to help me and for me to find happiness. She is truly an angel.
I feel stronger here than I have felt in years. I feel healthy and happy for the first time in a long while. Food has become less of a battle for me here. Now it is just a necessary part of life. In order to have energy to do what I want to do, I follow my meal plan and am content and happy enjoying every moment of life. That is one other lesson I never want to forget. Dona Isabel has made it clear to me that not even one second of our lives is guaranteed. We should live each moment as it comes, free from the past and not worried about the future. What a life lesson!
I am preparing to leave tomorrow, and I am crying as I write this. Two weeks was not enough time here. I feel so at home here.
The people of Costa Rica have welcomed me, and uVolunteer has supported me and given me the security I needed to enjoy this experience. I am not going to say goodbye but rather see you later.
I'm coming back next summer. No question about it. You have planted a seed, and a part of Costa Rica is growing in my heart.
Thank you for giving me this opportunity. You have changed my life for the better. I love each and every one of you with all my heart. I'm taking what you have taught me home. I'm going to live based in love and live more simply moment by moment.
Okay. Not goodbye. Hasta luego. Con todo mi corazon,
My Trip Gallery