Just in the 2 hour drive from Accra to the dorms in Koforidua we bought plantain chips just while sitting in the car, stopped on the side of the road to try some fresh 'palm wine' from a calabash, and went to a market where I got my first taste of a little child reaching out to touch me just because I was white. The thrill continued that night when we all went out and I tried my first African dish-'fufu'-which you have to eat with your hands!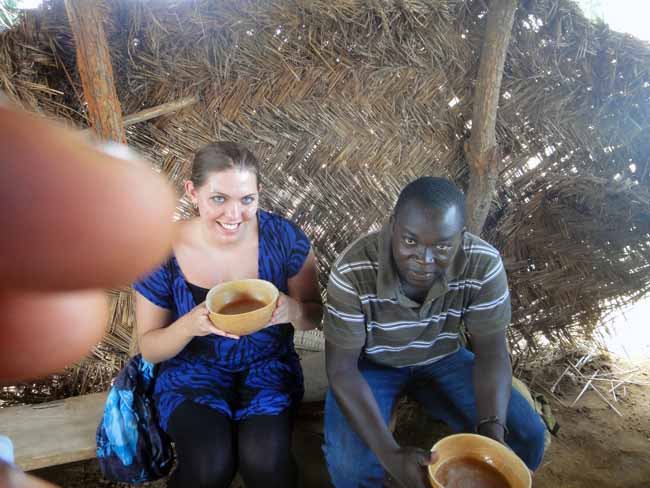 But the buzz wore down a little when I was told I had to be ready by 4am the next morning so we all could start driving to my project site in Mole National Park, about 14 hours drive from Koforidua (with unpaved roads part of the way!). However, going to Mole was more than worth the drive-my 4 weeks at the park were some of the most interesting, exciting, intense, and eye-opening weeks of my life. Just the morning after we got there we all went on a safari where we saw about a dozen elephants in the watering hole! At that time I didn't realize that the adventures had JUST begun.
Nat left that following day-I was now on my own. In the wilderness. In Ghana. With elephants, monkeys, buffalos, baboons, kops, bushbucks, and leopards! I was a little more than nervous about living in Mole, especially with only my Ghanaian host family for support- …would they like me?…would there be a language barrier?…a culture barrier? All my fears soon disappeared and looking back I can say with 108% certainty that my host family composed the BEST part of my stay in Ghana. My host mom showed me how to cook some local dishes, which she did by hand (she even had to make the fire every day!), how to wash clothes, and how to act like a Ghanaian (you're not a true Ghanaian lady if you don't wear earrings!). My host father, who had been at the park for 33 years, told me all about the different types of animals in the park, explained how you can tell when it's going to rain and how much, and, as promised, got me whenever he saw an elephant near the house (which happened more than once!).
By the end of the 4 weeks I really felt as though I was part of the family.
We cooked meals together, my host mom and I went to a "pito" bar (where the little 1.5 year old Isabella got a little tipsy!), we fought off the baboons from trying to steal the food from our house together (even though one day when I was all alone I had to chase them after they stole my shoes!), and we talked for hours every night. I learned about the culture and way of Ghana from them: about how they lived in a one-room house like most Ghanaians a few years ago, about how hard it is to live on their less than 200 GHC (about $150) a month, about how their little daughter Isabella almost died of malaria when she was 1 year old (which is common in Ghana). I will never forget them.
Nor will I forget my co-workers at the office where I did my data entry. I worked with a lot of Ghanaian university students who were able to tell me a whole lot about education in Ghana and growing up in the different regions. And even the adult workers, like my boss Mr. Ali shared stories with me-like how his grandfather, who was a chief, had 18 wives and about 90 children! Everyone overall in Ghana was kind and friendly-never was someone rude to me when I asked them for help. Although, I will admit that the men in Ghana are for some reason instantly in love with "obruni" (white) woman, and by the end of the trip I had more than a few marriage proposals! Even the children were fascinated by the color of my skin and whenever they saw me would shout "hi obruni!", or just hold my hand and hug me.
In Ghana I made memories that will stay with me a lifetime.
From the hand-made bead market in Koforidua, to sitting in the back of a truck with live chickens, to seeing dozens of patas monkeys in a tree, to giving an animal hide to a chief as thanks for working cooperatively with Mole, to being given a piece of fish to eat that still had its head on it to taking a bucket shower-these are the things everyone should try to experience if they can. And I highly encourage anyone slightly interested to take the opportunity uVolunteer provides and go for an adventure of a lifetime.
Ghana will be with me a lifetime. I know I have left a better person in every way possible.
My Trip Gallery