But as a frequent visitor to Costa Rica, I have visited many many beach towns. None delivered authentic "Tico" culture to me the way San Ramon did. This city of 75,000 Ticos boasts true Costa Rican flavor delivering the Pura Vida attitude that embodies their culture.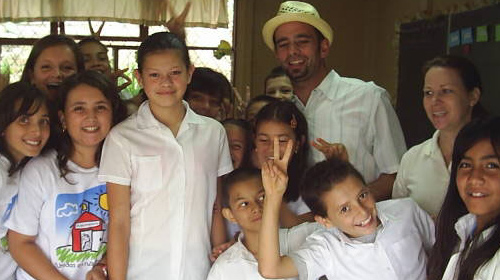 The students are genuinely thrilled to see you each day and are so receptive to learning from a Gringo. (as we are affectionately called). Instantly upon seeing the smiling faces of my students, I knew I had made an excellent call in embarking on this experience. They are ready to have fun which is perfect because your volunteer teaching experience should be fun. One memorable lesson I taught, we had set up a small caf? within the classroom! complete with tablecloth, trays and all. I was the waiter. The students of course were more than eager to play the hungry patrons. Our content review was American foods so it was a perfect wrap-up to a unit. A 5th grade girl ordered a Milk to drink with her lunch. Her lunch was ordered when she sheepishly ordered "soap" for lunch. I wrote her order as well as her company's order down not revealing her phonetic mistake. I left the room to put their order in with the kitchen. I returned moments later with a glass of milk from the cafeteria and a bar of soap from the teacher's bathroom. The class was hysterically laughing. A good -humored, approving laugh of their classmate's mistake. I quickly informed them that she had ordered jabon for lunch and how similar it sounds to soup. During recess, I was invited to play futbol with them. On my final day, I felt enamored that I had the financial means to replace their coconut of a soccer ball with a new ball from the mall in San Ramon.
The principal welcomed me to teach lessons and return to the school whenever I return to Costa Rica.
On the Family Stay:
Staying with a family was another move I made that I had some reservations about. I learned nearly at once after the first meal that again, I had made a good choice. Opportunities to apply and practice your Spanish are endless. My meals were made with love and of authentic Tico cuisine. I blended with the Mom by expressing genuine interest in her garden. She loved seeing pictures of my garden, family, and friends. I could always get my "Mom" as I came to call her to smile when speaking of her roosters. They woke up on cue each morning at 4 am. She would proudly state, "Los Gallos es muy allegre" (The roosters are very happy) My family respected my privacy and they allowed me to come and go as I pleased.
By the end of my experience I was calling mi hermano Elli: my brother. They welcomed me to return to their home whenever I wish and I plan on keeping in touch with them.
On Friendship:
All volunteers were from many different age groups and from all different backgrounds. We were fortunate enough to be provided the opportunity to travel both on the weekends and during a lull in our service work.
Within hours, I felt like I had known other volunteers for years. Everyone and anyone that is brazen enough to volunteer abroad, can blend and discover your friendship and "crew" naturally. Whether you prefer the nightlife and party scene with friends, or would rather lay low and relax each night, you can find your niche with other volunteers.
My Trip Gallery