I was very nervous before arriving, mainly about how I would like my project, would I be friends with the other volunteers, would my Spanish up to the challenge! My fears of making friends quickly disappeared as I found myself amongst a group of fun, like-minded people. Over the next two months I travelled with many of them all over Costa Rica and into Nicaragua. We had some fantastic experiences together and I believe we've developed some lifelong friendships.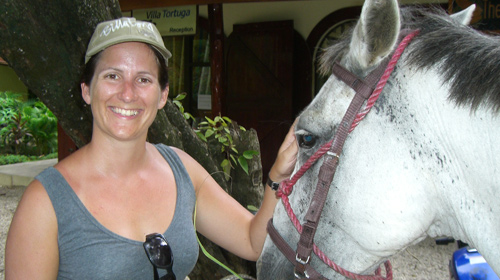 Having Fridays off is a brilliant bows provided by uVolunteer as it made it so easy to travel on weekends. We would often leave on Thursday afternoon and make it all the way to the other side of the country- over to another country all together!
But on to the real reason why I came here to volunteer. I have had a really fun time on my placement; I feel that I was able to make a difference to some of the children's lives. For various reasons I was able to assist on several different projects during my time in San Ramon. Mainly I was assisting to teach English to primary school students, but I also worked at two different orphanages, built a compost box at a daycare center with another volunteer and also assisted in the night classes for adults twice a week. All of my experiences have been rewarding, but I think I have most enjoyed the night classes, as the students are so eager to learn which is so wonderful to see.
The living situation has been well organized and comfortable- after a day volunteering, everyone is generally tired- the afternoon 'nana nap' is certainly regularity! I lived in the dorm for a few weeks and I had a lot of fun.
Living with 11 other people could be challenging, but there was always someone to talk to or go to a cafe or somewhere with. It was really nice to be able to talk about your day with someone going through a similar experience.
I have also spent a few weeks with a Costa Rican family which has been great. I wanted to experience how Costa Rican people live and I certainly have. It's great to try all the traditional dishes, as well as have the opportunity to practice Spanish!!
All in all, it's been a fantastic experience. Everything I was looking for and more! It's challenging at times, but that only makes it more rewarding and I'm so glad I came.
!Pura Vida!
My Trip Gallery