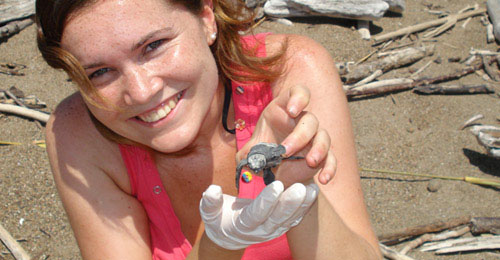 From day one I was looked after by uVolunteer and subsequently by Roy and the guys at the camp. I didn't know what to expect and was in for a shock! Firstly you will cross the crocodile river (hopefully at low tide when the crocs are napping..) and then you will come to your new home to be shared with your fellow volunteers: a remote and beautiful beach. You are basically shipwrecked (in a good way).
No electricity or hot showers, and sleeping arrangements are very cozy to say the least! But you get used to it very quickly and it feels like home after a day or so. Your working hours are from 8-10am and 3-4pm, and this will include shifting sand (great for muscle tone), cleaning the beach and camp, digging up turtle nests and turning on the water. In between there is lots of time for sunbathing, reading, playing cards, surfing, or just chilling out. At night you have a 2 hour shift between 6pm and 6am to watch for turtles hatching. When they do you have to release them, and it is the most wonderful thing to watch as they waddle into the ocean. You really are doing an important thing in helping these turtles.
There were other wonderful things that I experienced during my time at Buenavista, but I will let you wait and see for yourself how great it is.
My advice to you is to muck in and get involved. The work can be physically demanding, but the more you put into it the more you will gain from the experience. Also make the effort to get to know the Ticos at camp – I promise this will enrich your experience. I hope this has given you a quick insight into what to expect at the camp. It was absolutely the perfect start to my travels and I would highly recommend it to everybody. Have fun!
My Trip Gallery