Unexpectedly in my second week the schools remained closed due to Swine Flu so I continued my work at the dog shelter. During this week the lady who owns it arranged for me and 2 other volunteers to go horse riding for 3 hours to a local waterfall in the mountains. It was one of the most amazing experiences of my entire trip.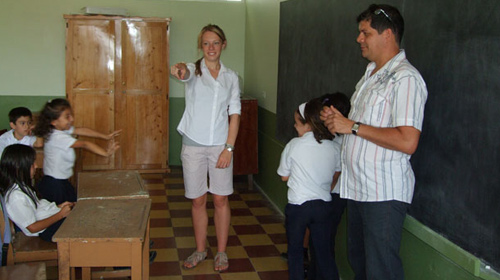 The week after my teaching English project started and for the last 3 weeks this was how I spent my time. At first the school was pretty daunting, it had 900 pupils and I was a teacher assistant to a teacher who taught 1st-6th grade. As time went on, the more and more enjoyable I found it. The kids opened up so much more and became a lot more responsive to my help. I'd never really thought about how difficult English would be to learn, until I came here. I feel like I helped the kids mostly with oral and pronunciation work, and I could really hear the difference when they spoke afterwards, which of course was so nice.
During my time in Costa Rica I had 5 different weekends available for travelling. Firstly we went to Monte Verde, La Fortuna and Arenal where we went to a Cloud Forest, rainforest, and my favorite, the Hot Springs.
Arenal is where Arenal Volcano s, so it's a definite tourist destination but was still so much fun. We then went to the Caribbean Coast, Puerto Viejo which was so chilled and had a completely different vibe to San Ramon and the Pacific. Here we tried surfing and did a lot of dancing to Reggae.
On the 3rd weekend we went to Montezuma, which was my favorite trip. It's a really pretty beach town, with lots of handmade crafts and amazing weather. It was also great because we hiked to the waterfalls that were nearby. This was pretty scary at times due to heights and very uneven pathways through jungle. But the waterfalls were 100% worth it. There are rope swings into pools and diving off the rocks, it was really incredible.
Our last weekend was spent in Manuel Antonio National Park; here we saw sloths, monkeys, iguanas, raccoons and deer all in the wild. There are also some breathtaking beaches and rainforest treks.
I wouldn't change any part of this trip it has been one of the best experiences of my life. I've learnt so much from living here and from meeting all the great people that I lived with, all the volunteer staff and even the Tico's! I would recommend this to anyone thinking about coming to Costa Rica. I feel I've made some friends for life here and I don't think I'll ever forget this experience.
My Trip Gallery