I went to Costa Rica to teach English in a low-income school in the heart of San Ramon. Whilst I was there, I not only did this, I also taught adult English classes at a university, travelled around the country and met some great friends.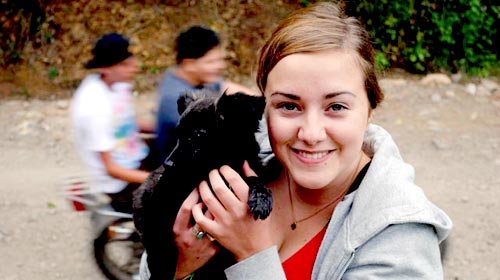 I stayed in the volunteer dorm and settled in immediately after a very long flight. I loved living there because I was living with all the other volunteers and we had a lot of good times in the house. Also it gave me a sense of freedom; I could come and go as I pleased. My first impression of the school remained throughout my stay. It was so beautiful and I could not have asked for a better class of children. I enjoyed teaching English there as it gave me a real sense of accomplishment and I learnt a great deal about life in Costa Rica from talking with the teachers and children. The adult classes were very different, although involved the same sort of teaching methods; Bingo and Guess Who, of course. I liked these a lot because I shared them with another volunteer and we had some very funny lessons. Not to mention, it helped my Spanish a great deal!
As far as La Pura Vida goes, I experienced as much of the culture (and of course food) as I could. Dona Isabel was my 'dorm mother' and made me feel so at home! Her cooking was delicious and her conversation comforting. I will miss her banana pancakes very much! She and the coordinators helped me with any problems and ensured that my 5 weeks were comfortable.
The travelling at weekends is what I will always remember. Fortunately, we only worked a four-day week at our projects, leaving us with a longer weekend to explore the country.
I made sure that I did not waste this opportunity and travelled every weekend except the first, which I used to explore San Ramon and its many Soda Bars! I visited some gorgeous places with the other volunteers and have some fantastic memories and photos to share now that I am home. However not only have I taken with me these pictures and new friends but also, thanks to my humbling work with the kids, a brand new perspective and a bug for travelling. Thanks uVolunteer for having the Costaprincesa!
My Trip Gallery