When I walked off the plane in San Jose I will admit I was a little nervous, but more so excited about what lay ahead of me for the next 8 weeks in Costa Rica.  I was so happy when I spotted Wagner, from Language School, waiting for me at the airport.  He took me through San Jose to my host family's house.  When I got there I spent the next little while getting to know my host family.  They were such amazing people, who made me feel so comfortable in their home and provided me with amazing meals and a clean and nice living arrangement.  During the time I stayed at my host family I attended Language School for 5 days.  At the school I attended school from 8:30 to 12:15 each day. The classes and teachers were great at the school, catering to the needs of each student making sure we were pushing ourselves to learn but not pushing us too far.  In the evenings after class I would practice my Spanish with my family, as a means to communicate and practice what I had learned.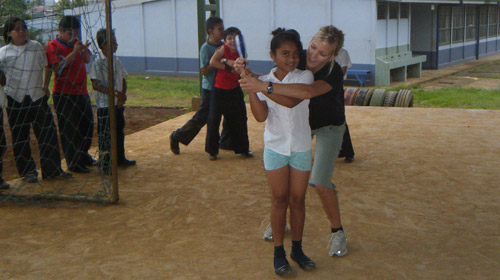 At the end of my week in San Jose I headed out to San Ramon on Friday, excited to start my uVolunteer placement that following Monday. I was excited for a new adventure and to see my new dorm house and meet my new roomies! The dorm house far exceeded my expectations and I was happy to find a beautiful house full of amazing people; a wonderful atmosphere to spend my next 4 weeks. That Saturday a large group of us headed into San Jose to attend a Costa Rica World Qualifying Soccer game. The soccer game was a such a great experience that I will always remember!
Once my teaching placement started the days just flew by…way to fast! During my placement each day I would teach English for 3 hours at an elementary school, and 3 hours at another school helping to teach physical education. Every day I was excited to go to the school and see the smiling faces of the little kids. The school atmosphere was awesome, because as soon as you walk into the school there is a load of kids there to greet you with hugs, hellos, smiles and questions each and every day. During my English classes, which consisted mainly of grade 1 students, I would lead songs, discussions and play educational games with the students. The English teacher was always present, and together we would keep the students engaged as they learned more and more English vocabulary. I will admit at first I was a little apprehensive about teaching grade 1 students because I am more of a high school teacher. It only took one day for me to realize that I loved teaching primary grades, and after my 4 weeks I now know that I would love to teach at an elementary school.
The other half of my day was spent at the other school, teaching physical education, which was also such an amazing experience. Here I got to work alongside 2 other wonderful volunteers, and together we would coordinate games and activities for grade 1 to 6 classes. During my time at the school we taught a unit on baseball. It was great to see the baseball skills of the students improve, but it was also great to see the kids passion for soccer, because no matter what we played during a class they were always excited for the last few minutes of class when they could play soccer! During my teaching placement the only downfalls I had was the fact that I didn't know more Spanish, therefore making it tough sometimes to communicate instructions and have an in depth conversations with the students. I did however start taking Spanish classes in San Ramon that I would attend twice a week, but I wish I would have learned more Spanish before I came over to Costa Rica.
Therefore I would recommend that future volunteers who have no Spanish background take a Spanish class before they go to Costa Rica or enroll in Language School for a few weeks prior to their volunteer placement.
My life at the uVolunteer dorm was just as great as my teaching experience. It was in the dorm that I was able to meet amazing people, who I was able to get to know and spend time with. Dona Isabel came into the house Monday to Friday and cooked us delicious meals for breakfast and supper, and kept the house in tip top shape! Dona Isabel provided the house with a warm and caring attitude, and a kind and patient ear to listen to our Spanish.
One of the things I loved about the uVolunteer program was that I got Friday to Sunday off. This provided me with a great opportunity to travel around and see Costa Rica on the weekends!
It was always great having other people from the dorm to travel with, and it was nice having a place to come back to after the weekend. I can't believe how fast my uVolunteer placement and my time in Costa Rica went. I know I will always look back on this amazing experience and think about how great it all was and how I miss it.
Thanks for everything uVolunteer!!!!!!!!!!!!
Take Care
My Trip Gallery