This trip came right when I needed a break from my day to day life the most. There were the struggles of planning the trip, the hot weather, the mosquitoes, and adapting to the different lifestyle. However, all those struggles were worth dealing with to be with the children and friends.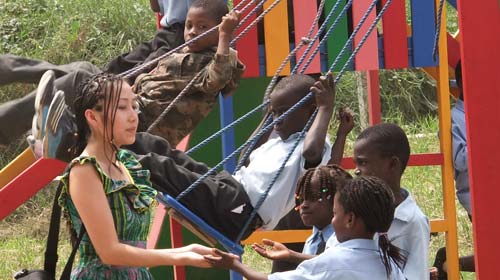 When I arrived I was exhausted from the plane ride and the rush at the Ghana airport. The air pollution was hard to ignore and I was starting to drench from the heat already. However, when I saw my long time friend Fred at the airport I hardly noticed all those distractions. I scheduled for the uVolunteer coordinators to pick me up at my hotel the following day. Nathanial and Nancy's flexibility and professionalism helped make my trip better and comfortable. They introduced me to my host family, the orphanage, and ensured I was enjoying my stay and I was safe. Although, I have been in Ghana before and I had trusted friends to rely on, I still felt vulnerable in the beginning. It was important for me to have a few avenues I can rely on for my safety and uVolunteer was able to provide that.
Spending about 2 weeks at the orphanage was more than life changing, it has become my life. When I hold any small hands or see a big smile I will think of the children.
When I hear laughter, cries, and cheers I will be warmed knowing that they are doing well. We spent the mornings chatting while they finished their breakfast and bath. Then I taught them math, reading, drawing, geography, and vocabulary. They were the most determined and competitive kids I have ever come across. It was always "Lia, Lia, Lia I know the answer, I can do it!" or "A-bruni, A-bruni, A-bruni (white person) it's my turn!" There were always 3 to 5 children talking to me at once. I wish there were more of me for them.
After the learning lessons was lunch. Then we played charades, Simon says, duck duck great duck, Tiger-colors, bo-bo ski watten totten clapping game, soccer (football), coloring, and made paper airplanes. The girls loved to braid hair, so there were usually a couple of them playing with my hair. Sometimes a couple of the boys would join and attempt to braid too. Around 2pm when I headed home I had several braids and some were larger than others.
During my last few days, the children headed back to school and I was fortunate to be able to go with them. The children were suited up in their school uniforms and bright smiles. Their school was in the back of one of Bishop's church. The first few days of school were optional, so it was all the children at the orphanage and a few others. I had the opportunity to teach them to write poems, math, draw, and told them stories.
I am not a trained teacher, so I have to admit I struggled trying to keep all the kids in line and interested at all times. The kids had so much energy and passion that I had to bring my A game to keep up with them.
Some of the kids were more independent, learned on their own, and knew when to seek help when needed. Others needed more attention in specific subjects and seemed to constantly want to share stories and have discussions with me. I appreciated all of their different styles and personalities. Just when I started to get to know them better it was time to leave.
I failed to prepare myself for the goodbyes. When I was there I looked forward to seeing them the next day or the next week. When it was time to say I will not return, it was heart breaking. Most of them said their goodbyes and seemed to have not noticed that I will not return. A few asked if I will come back to be with them again. As I tried really hard to hold back tears the only answer I had was that I really want to return, but I do not know. I could not give them a promise I was not sure if I could keep. Have I become another person in these children's life that has abandoned them? Or did they understand I was only there for a temporary time and just appreciate our time together?
I spent half the day at the orphanage and the other half of the day with my host family and friends. I have grown close to my host family. Florence had so much patience and kindness towards me. She cooked delicious Ghanaian dishes and made two Ghanaian dresses for me. I taught the host brothers and cousins how to play Phase 10. They caught on quick and started to win a lot. My little host brother Richard waited for me to return home so we can continue playing cards and read. He would always walk with me around town and keep me company. My other host brother Samuel and I stayed up a few nights having deep conversations on various subjects. It was hard to stop talking; we just had an amazing connection bouncing ideas off of each other. They really welcomed me into their home as if I was a family member that has not been home in a while.
Everyone I met have moved me and I cannot stop thinking and talking about them. My friends and family here are starting to get a bit sick of it and I'm sure people do not want to read my Facebook status anymore.
I hope to return soon to be with everyone again. Having this hope that I will see the children, my host family and my friends again gives me comfort. This separation has been really hard to deal with because I miss them so much. I must remember that I will carry the joy and happiness they have brought into my life with me every day. This chapter of my life will not bring me down, but make me stronger, happier, more grateful, and hopeful.
My Trip Gallery