The staff members were all soooo helpful all the time- EspeciallyFiorella and Suri, who are both awesome- and were always genuinely concerned and willing to help, to be available, and to make us feel comfortable.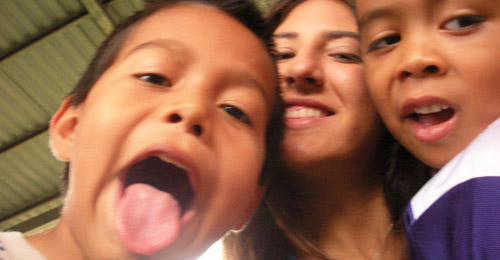 Getting to my Hogarcito placement the first week was kind of rough- I think that I got lost almost every day and ended up in the next town once- but whenever that happened, I was able to pop into whatever store was nearby and of course everyone was always super eager to help so those types of situations always ended up being no big problem at all (people here are so friendly?I recently had the lady next to me on the bus give me her number so that if I ever visit Costa Rica again, we can have lunch!). Working with those kids was definitely the best part of my experience. They all come from such difficult backgrounds, and have so many emotional burdens, yet are some of the sweetest kids I've ever come across. I became so close to them- they needed and appreciated so much love and attention.
Working with the tias was great- they love the kids so much, but it is of course impossible for them to give them adequate individual attention- and they always expressed appreciation for my time.
I didn't know what to expect of my English classes, but they ended up being another very rewarding part of my experience as well. The students were so enthusiastic to learn- English skills help them a lot- and I do feel like they improved. The weekend trips were awesome highlights as well- each weekend I just hopped onto a bus with a couple of other volunteers and took it from there. We ended up visiting a few beaches: Cahuita, in Limon (the Caribbean coast) was my favourite- it was beautiful, and the forest was touching the beach and we saw two types of monkeys in the trees! In Monteverde we did a canopy tour through the cloud forest which gave us breathtaking birds-eye views. In La Fortuna, we horseback rode to a waterfall in the rain, took a hike and saw toucans, and bathed in natural hot springs.
You can basically go anywhere in the country and it will be beautiful, and I'm so glad that I got to see that.
I'm so happy that my first real travelling experience was in such an awesome country. I learned a lot from my experiences that I'll definitely carry that awareness with me. Now that I'm done here (for now, of course), the only thing I can think about is when I can next travel!
My Trip Gallery