Buena Vista has no electricity but when I left they where thinking about getting a solar panel. If you have a solar charger it's a good idea to bring it. I had one so I could charge batteries, cameras and I-pods.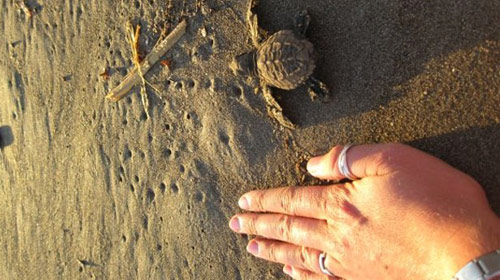 At Buena Vista there are two kinds of water: from the taps and from the jugs. Once a day someone has to go turn on the tap at the other end of the beach for half an hour so all the jugs can be filled up with drinking water. The rest of the water for washing clothes, showering, etc has to be pumped up from a well a couple hundred meters away. I know that after reading this it all seems very primitive and uncomfortable but it isn't. It just takes a while getting used to the fact that very basic things take a little more time. But if you are a person who wants to take a long hot shower everyday and a private room this isn't a project for you.
I lived at Buena Vista for two months and I had an amazing time.
While the household work is done during the day most of the turtle work takes place during the night. All the volunteers rotate in a shift system. You have a two hour nightshift or beach patrol. During the shift you have to watch the hatchery for hatching turtles and make sure racoons don't get to the nests. When a nests hatches you collect the babies in a bucket and release the on the beach. It's wonderful to see a couple dozen little turtles waggle to the ocean and know that thanks to your work a lot more of them will survive. On a beachpatrol you walk on the beach looking for nestling turtles or new nests. If you come across a turtle laying eggs one person takes the eggs while others measure and tag the turtle.
Observing an adult Olive Ridley turtle come on to the beach, dig a nest, lay eggs and walk back is incredible. When they are laying eggs the turtles get into some kind of trance which allows you to get really close to observe them. Other hatchery work is digging up the old nests for research. A couple of days after a nest has hatched it is dug up and you investigate what's left inside. This envolves counting the empty shells to see what kind of percentage of the turtles has hatched. The eggs that haven't hatched are opened to see what stage of development the turtles where in.
The night shift can be exhausting but there is a big cupboard full of books to entertain you at night and plenty of time during the day to rest. There is also time for swimming and surfing.
During my two months there I had a great time and some of the volunteers became really good friends. Don't let the living conditions or the nightshifts scare you. Sometimes it will be hard but the lasting friendships with people from all over the world makes it all worth it. It is also really good to know that this project can't work without the help of volunteers. There are just two to three staff members who can't do all the work by themself. Your work is needed and it is incredibly rewarding because you know that what you are doing there really makes a difference to the survival of the turtles.
My Trip Gallery