When I first arrived in Ghana I was really nervous and excited all at the same time. As soon as I received my luggage, Annette was right there to meet me. We then drove to the dorm that was approximately an hour and a half away. I really enjoyed this car ride because I got the chance to observe everything.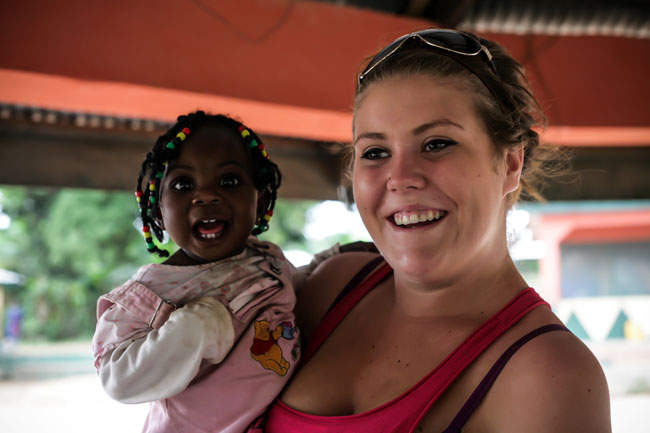 My first weekend was really good. I had orientation on the Saturday morning where we walked into town. I was shown where all the restaurants, banks and landmarks are. It was nice to see where everything was, so that when I was on my own I would remember the places that Annette showed me in orientation.
My first month in Ghana I taught at Orphanage. I didn't have much experience teaching before so I was really nervous on my first day. I taught the Kindergarten class (ages 6-7). After my first day I was really comfortable because all of the children are willing to learn whatever I could teach them. On an average day, in the mornings I would teach mathematics and in the afternoons I would teach spelling and grammar. I really loved my class, every morning they would greet me, and after classes were done they always gave hugs goodbye. Also, at the orphanage I was able to play with the little kids (aged 2-4), which was a lot of fun.
All of the kids were so welcoming and loved to be around all of the volunteers.
During my second month, the other volunteers and I ran a sports and English camp because the schools were on vacation. The first week of camp was held at a local community and it was really interesting to see how the level of education differed from the children at the Orphanage. In this camp, I taught children that were aged 13-15. At first this class was really quite and did not want to speak up about anything, after our few warm up activities the morning the class quickly became comfortable and it was really enjoyable. In the mornings we would teach mathematics and English until lunch and then after we would play a variety of sports (soccer, sack races, etc). The second camp was held at the Orphanage and we had a very similar routine with these children.
One the weekends and when there wasn't a camp running, we were able to travel. During my time in Ghana, I was able to travel quite a bit to different places, such as Mole National Park, which was awesome to walk through the safari and see the animals really close up. Also, I travelled to Accra, which was really fun to go out and see the big city. I spent a few days on the beautiful Labadi Beach, and the Accra Art Center where I bought lots of souvenirs for my friends and family back home.
Overall, my trip in Ghana was absolutely amazing and I don't think I could have had a better time.
Over the two months of my volunteer I had the chance to meet some really awesome other volunteers and local Ghanians as well. I became really good friends with some of the neighbors around the dorm, I always had fun with the local people and they really showed me a lot about the culture and the country. I will definitely go back to Ghana soon, Nat and Annette always made sure I was having the best time. They made sure I was trying new things and made me feel right at home since the first day I arrived until the day I left Ghana. Thanks Nat and Annette for everything!!!!
My Trip Gallery