My project itself was amazing! I came in thinking I would be playing lots of futbol, and that I did. The kids ask to play futbol every second, but if you take the time to teach them new games they really enjoy that too, especially when we reward them with futbol after they learn a new sport. The kids get so excited every time they see you in the school and they chant "fisica, fisica!" and come up to hug you and give you high fives. The project goes by way too quickly so I suggest taking in every moment and if you're having fun then I guarantee the kids are too.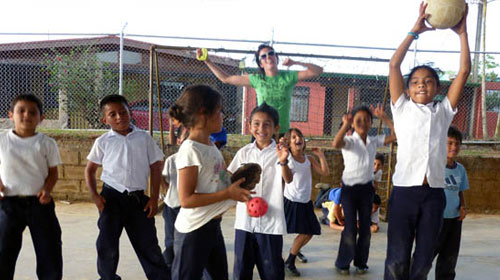 They can be entertained by the simplest things. The experience itself had taught me to not take anything for granted! I also suggest taking advantage of the time you are given off to go travel.
Costa Rica is a beautiful country and there are so many places to see and things to do. Everyone I've met out here through the organization and traveling has been amazing.
I've learned lots, experienced lots and feel like I have made a difference. Overall, it's been a very successful trip and I recommend that if you have the chance to do it, DO IT! You will have the time of your life!
My Trip Gallery