Sea Turtle Conservation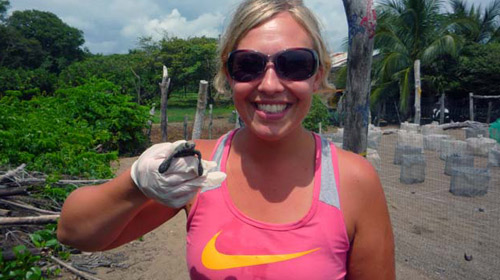 I had a very enjoyable time working with the sea turtles project. I enjoyed being able to learn more about sea turtles and the reasons that they are endangered. I enjoyed learning and actually taking part in the process of protecting them. For example, walking along the beach at night on patrol of mother turtles, gathering eggs, burying them in the hatchery, and being able to gather the baby turtles when they hatched. It was quite extrodianary to be able to take many baby turtles to the beach and watch these tiny fragile creatures naturally walk towards such a powerful force of crashing waves. I especially enjoyed the fact that I was living the Scientific Process since I am an educator. It was very fun to "do" exactly what I teach in my classroom. It will be so enjoyable to be able to share my stories, experiences, and pictures with my students. I enjoyed the hard physical labor, and the many opportunities to ralax and enjoy the warmth of a Costa Rican beach.
The other volunteers made me so pleased to be a part of this adventure. There were countless good laughs, stories, and experiences shared throughout my days at Playa Buena Vista.
San Ramon – Teaching English
I enjoyed my experience teaching English to both adults and children. I especially enjoyed this experience because I am a teacher in the United States who works in a school that has numerous students in which English is their second language. It was enjoyable for me to observe a different country's school system and be able to reflect, compare, and contrast. I greatly enjoyed working with the adult classes. They were so kind and welcoming to me, and quite appreciative of my time spent with them. Their true desire to learn English caused the classes to be quite rewarding. I enjoyed getting to know my two roomates and learn about their lives.
Marianella, the coordinator, was one of my favorite things about San Ramon. Her jovial and welcoming spirit made me feel at home and so happy to be here!!
Dona Isabel, our dear cook, was another reason I was so pleased to be here. I enjoyed my Spanish conversations over breakfast with her as I ate her wonderful cooking. She was also so welcoming (and patient to listen to my broken Spanish skills)
My Trip Gallery