CHOOSING UVOLUNTEER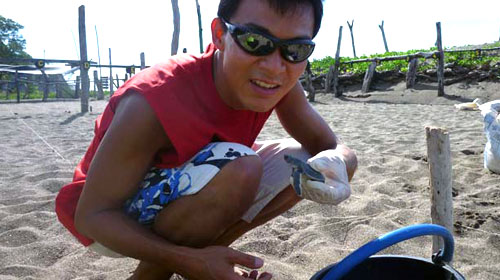 I had decided to take a 12 month sabbatical from my 8am-7pm office job, I thought about including some volunteer work in between travelling and living like an unemployed bum. My motivation for volunteering was to do something worthwhile for the environment. Being a fan of David Attenborough and the BBC's Living Planet documentaries, my interest piqued when searching the internet for volunteer projects abroad that involved endangered species. There were so many options, but 'turtles' and 'beach' sounded really cool.
It was then a matter of choosing an organization that could connect me with a country where I had never been before, turtles and a beach. For me Costa Rica sounded like an exotic place where eco tourism was prevalent. The uVolunteer website contained lots of relevant information and the signing up process was straight forward.
Having started corresponding with the Costa Rican uVolunteer representative via email (Nella take some credit!), I asked lots of questions before departing Australia. The timely responses made me feel reassured that the organization was doing everything to make me feel like I would be taken care of before and after the volunteer program. Everything in between was up to me.
PLACEMENT AT PLAYA BUENA VISTA
Arriving at San Jose International Airport, I met a brother and sister from the US who would turned out to be my travel companions to Playa Buena Vista. We were then driven to San Ramon for a 1 night stay in the hostel managed by the wonderful Isabel. We received the welcome pack and orientation session from Nella and instructions on how to get to Playa Buena Vista by bus.
The next morning things did not go according to plan. Despite waking up early and being at the bus stop well before it was due, we waited and waited…and waited. A stream of buses passed us and we assumed that we just failed to signal or the bus driver did not stop. So plan B had us travelling to Nicoya and changing to another bus to get to Samara. So after a 4.5 hour bus ride we reached Samara. A series of phone calls then got us a taxi close to Playa Buena Vista. A kayak was used to take us across the 'crocodile infested river'.
We met a handful of volunteers at the river side, and we walked to the site for the first time. Upon arrival we met the long term volunteer, Anni from Germany, who gave us a tour of the place. With all of the information provided to us upfront, we knew what to expect. So the conditions did not phase us. In fact at time the lack of any modern conveniences was actually an escape from normal life. It allowed time to go for a swim on the beach, read a book for enjoyment, use a machete to cut open a coconut, play cards, lie in the hammock…and generally just relax and unwind.
The timing of our arrival on Christmas Eve, also meant that the atmosphere was a little bit merry. Some of the volunteers built a 'snow' man out of sand, and we received meat to go with our rice and beans for dinner on Christmas Day!
VOLUNTEER WORK AT PLAYA BUENA VISTA
With such a desirable setting, the main purpose for us being there was to volunteer our time and efforts in helping turtle conservation. Information about turtle numbers generally is negative. It is only through this program and others like it, can people actually do something about it.
With the turtles, the main work involved nightly patrols for egg collection, checking of the hatchery for newly hatched turtles, recording details on weight and size of newly hatched baby turtles, maintenance of the project site and hatchery, cleaning litter off the beach, and releasing of baby turtles into the ocean.
In staying at the site, we were also required to collect food, fruit, vegetables and gas tanks that were delivered, pump water from the well using an old motorized pump, clean the living and sleeping areas, and clean up around the garbage dump.
Due to the high temperatures after 9am, the labour intensive tasks were tasked for 6am starts. Although getting up early for work is hard enough in the real world, this would benefit us with the whole day to RELAX. Then, after dinner, most of the work with turtles and the hatchery was done in teams with shifts usually lasting 2 hours. It should also be noted that we had Sundays off work, so we were able to enjoy Christmas Day 2011 and New Years Day 2012 in Samara.
The volunteers were from various countries around the world, and it was good to meet a wide variety of different personalities, share travel sories and then become facebook friends.
VOLUNTEER OUTCOMES
Personally, I am pleased that I came to Costa Rica, a beautiful country with such a diverse environment. I feel that I played a small part in trying to reverse some of the damage caused to the turtle population. The highlights for me:
1.While doing a nightly beach patrol, we found a female Olive Ridley laying its eggs. I was allowed to dig around the turtle, and collect her eggs. I would catch the eggs, sometimes two at a time. It was a special feeling being involved in the natural process.
2.Releasing baby turtles to the ocean. Watching them wade frantically down the beach and into to the ocean for the first time. I just hope that a few more survive and make it to a reproducing age.
Thanks for everyone involved from uVolunteer. Special shout out to Nella, Ligia and Isabel, who helped us through the experience.
You guys rock!
My Trip Gallery